Teenagers are the rising generation, so they want to experience many new different things.
Also, they hope to have more lovely parties to enjoy a great time with their friends before entering adolescence.
If someone is going to hold a party for their kids, our teen party games ideas will be a key secret for them to bring memorable moments to their teenagers.
Should you be one of those who need the set of hints to give parties for teens, follow us now to reach the thoughtful detail in the below list of party games.
Top Of Teen Party Games Ideas

1. Laundry Day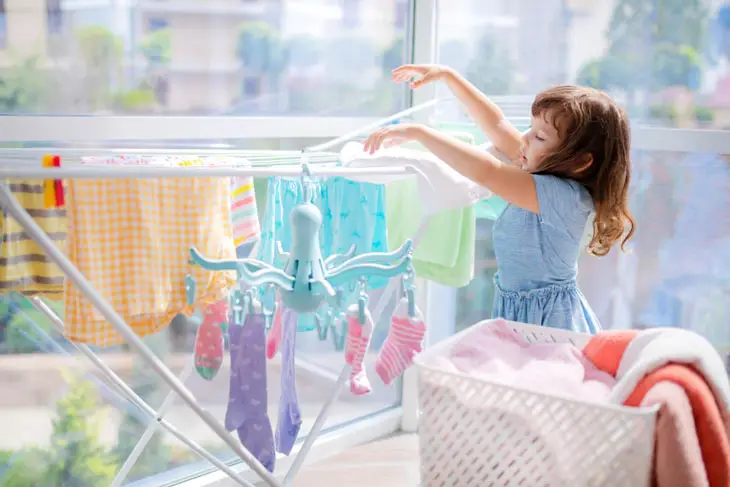 To warm up the top of game ideas for teenage party, we are going to mention Laundry day games.
Teens start learning how to do some simple homework, such as hanging up laundry. Some did this chore a few times, and some might not have any chance to do that.
This is one of our favorite games which give your kid a good time to practice the skill and teach children to help you with chores. No dryers are permitted.
What To Prepare
towels or clothes
clothespins
laundry basket (optional)
rope (for clothesline)
How To Play
The champion of this game for teen parties is the first one who can hang up all his or her laundry.
You can carry out the game as groups competing with each other or each player snatching clothes away to win the game. Deliver each group a basket full of towels/ clothes and some clothespins.
The team/player will win if they hang all their stuff up first.
2. Medusa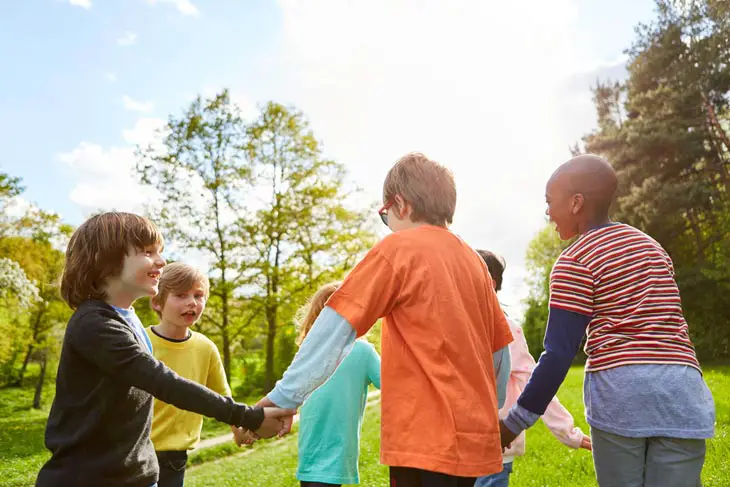 The next name we want to mention in the list of good party games for teens is Medusa. This is an entertaining yet simple game for teens.
If you have around ten members, this game is perfect for you all.  This belongs to one of the cool birthday party ideas.
How To Play
All players gather round and put their arms around the adjacent person's shoulders – the one standing next to them. Then, everybody bows their heads down at first.
Players look upward at another participant when the host counts to three. If two players look at each other, they shout out and then fall down.
This game keeps going till there are only two players left.
3. Wacky Duck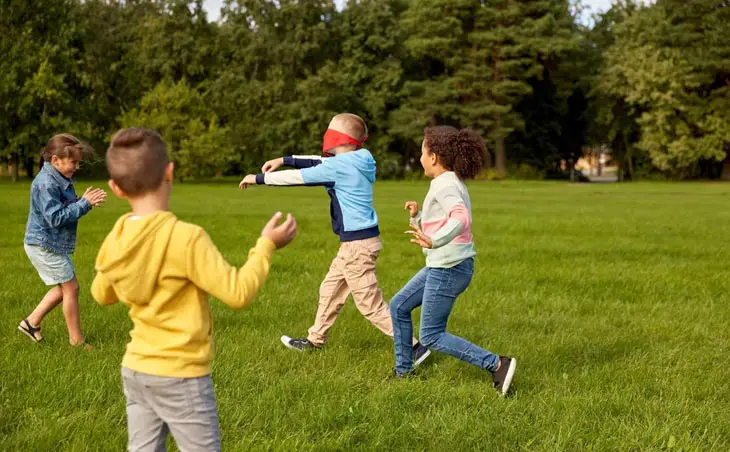 The game is one of the excellent teenage birthday party ideas at home where there is space.
The Wacky Duck needs proximity between participants, which makes everything so much more enjoyable for teenagers.
Number of participants: at least 8
How To Play
To run this fun activity, let all participants sit in a ring and make a big circle with sufficient space for each person to stay at the center.
The one in this center, you might call her or him "it", will be blindfolded and then spin around several times.
Meanwhile, the other participants rapidly exchange places and rearrange their seats. Once everybody is back in this ring, "It" will use a wooden spoon or rolled-up magazines to feel other players.
When "it" ceases at any person and settles in the participant's lap. Then this participant will make some wacky sounds like a duck.
The blindfolded person needs to determine who she or he is. If "it" gives a right answer, the one who made some weird voice has to replace "it".
Or else "it" will keep doing the next round for other laps till "it" calls out a right name.
Your teenagers might reach full joy attempting to utilize fake sounds to play a joke on their friends in the game.
4. Ping Pong Blow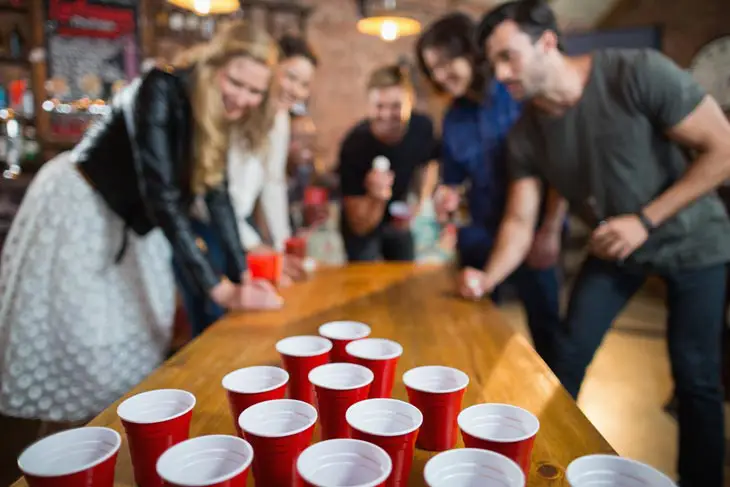 This is one of the best competitive, fun teenage party games. The game is greatly suitable for enjoyment while we are waiting for our last visitor to leave.
Also, the Ping-pong game is ideal for entertaining teenagers that are unwilling to enjoy dancing at parties.
The game for teenagers might run throughout your party. Anyone can take part in and don't need to wait to have enough members to play as many other games.
Placing tape on one level surface – a floor or a table will do or using some layers of sticky tape to tape two raceways.
Two rivals utilize straws to blow table tennis balls from this side to the other side in the race.
In case the ping pong ball is rushed over the border of this track, let's start over!
Then the next participant throws down the glove to the winner; keep playing till you find an eventual champion at the end of this fun party game.
5. Cucumber Pass
Here comes a game of skill. The up and down movement because of a height gap leads to lots of fun moments in the game.
It isn't hard to meet the cucumber pass in birthday activities for teens. The way to enjoy this game is quite simple.
Everybody stands in a ring; the first participant places a cucumber between his/ her knees and turns himself/ herself to the next one.
Now let's pass the cucumber to the next person; this player has to keep this cucumber with his knees and keeps passing it to the next player.
When you do these steps smoothly, your task is done well. If you drop this cucumber while you're passing it, you're OUT, yet the one receiving the cucumber still stays.
If you're passing the thing on, you're taller than the recipient; you need to find a way to lower your knees.
This step allows you to help the short player take the cucumber with his knees. In case you are the shorter one, you must jump to take it between the tall player's knees.
Keep doing this until finding the last one who is standing in the cucumber squeezer. He is the winner.  This outdoor activity can also support your teens' flexibility and attention span.
This is also the last option of a teenage party game in our list today.
In A Nutshell
Have you already found the right option among these teen party games ideas? Once we still keep your company till this bottom says, we believe that your answer is yes.
Actually, there are still lots of choices for teenager party games (such as board games, classic games, playing cards, and scavenger hunt).
So simply your task is to see which one will be suitable for your kid's hobbies.
When you have a chance to choose a game for kids to hold a party, let's try to create more and more enjoyable memories for your children by considering the ideas for teenagers thoughtfully.
Now it's time to thank you for accompanying us in the activity teens blog and see you soon.