Undoubtedly, a birthday is one of the most desirable celebrations of the year, especially when you have turned 15. For teenagers, a birthday is more crucial than ever.
That's why you can't help but look for birthday party activities for 15-year-olds. This way, you pass the new age with family and friends playing together and receive lots of good wishes as well as gifts.
If you are bound to light up your birthday party, do not hesitate to discover 12 interesting ideas for teenagers in here.
Let's look forward to which indoor and outdoor ideas you can organize for this memorable day!
Indoor Birthday Party Activities For 15-Year-Olds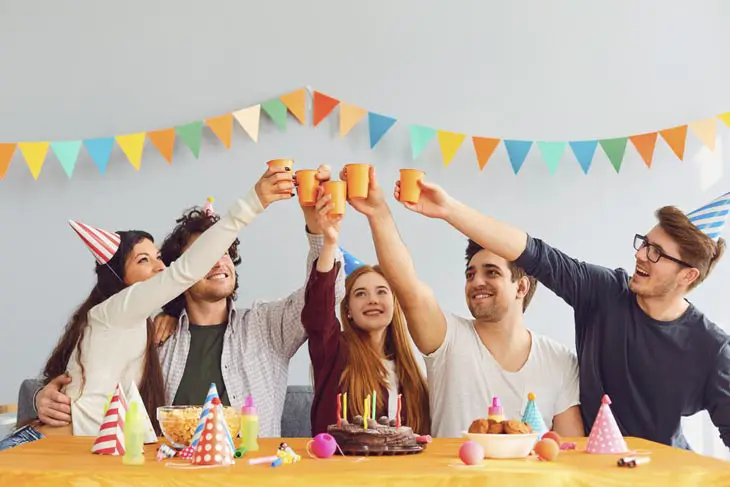 Don't assume that interior space is too boring to create happy moments. Honestly, home is ideal for those seeking a cozy and safe birthday party with family and besties.
Are you ready for the upcoming teenage party ideas at home?
1. Enjoy Home Movie
Why don't you try to set up a home movie theater instead of visiting any nearby cinema? You do not need to reserve tickets or queue for a film anymore.
Your plan could even be changed unexpectedly if that day's ticket became sold out, especially on weekend nights.
Do not let these problems worsen your birthday because you have another choice.
You can rent a 4K HDR movie projector to experience the movie on the big screen with the premium image quality.
And if you are a movie enthusiast, you can persuade parents to purchase one. This way, you can enjoy it not only on your special occasions but also in your leisure time later on.
On the other hand, you can still find popular movies on copyrighted movie platforms like Netflix or Disney.
Thus, you can watch directly on the TV without spending money on a projector.
Forming a mini cinema at home means that you can comfortably put on your pajamas and find any comfy seating on your sofa.
You can express your feelings or comment on movie scenes without disturbing others. It's also a chance to escape yourself from the cinema's staff observation.
The cherry on top of your complete experience is popcorn. You can also buy big-size popcorn packs and coke in supermarkets.
However, let's think of making popcorn together 1-2 hours before G time on your birthday. Mixing up cheese and caramel taste for this snack sounds more appealing! 
2. Making Birthday Cake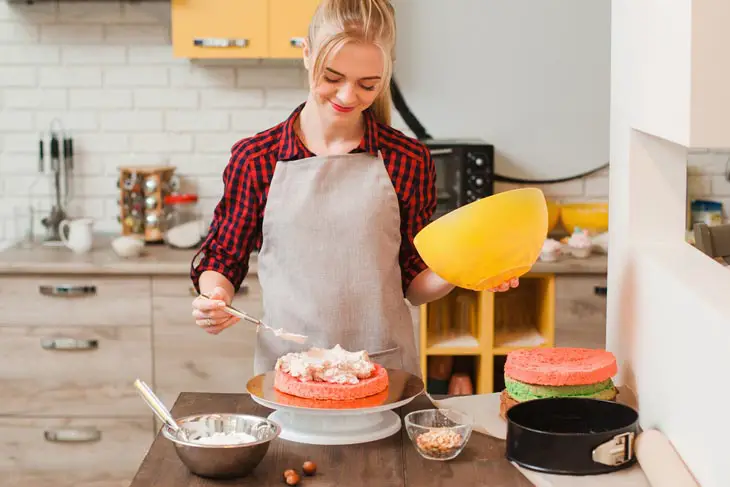 Cakes are the soul of the party. Buying eye-catching and delicious cakes at the bakery is no longer unfamiliar.
Therefore, if you desire your birthday to be more creative, let's make cakes with your beloved.
Are you excited about a fully-dipped chocolate cake or blueberry cake with a sweet and light-sour taste?
Not only can you have funny and hectic moments in the kitchen, but you can also boost your cooking level.
The cakes coming out of the oven will be filled with your favorite color and flavor and also mark your vibes.
Do not limit your ability to traditional birthday cakes only.
Let's put effort into other colorful treats like macarons, cupcakes, donuts, waffles, or Dalgona candies (a trend from Squid Game drama).
Each member can make mini cakes with their own flavor. As a result, a colorful and full-flavored cake set will be released. Everyone can taste different cakes at the same time! 
You can also organize a minigame for this activity. Post a photo of all the cakes and hold a vote on your social media; then, we can figure out the "king of baking"!
3. Pajama Party
What is the party for a 15 year old female? Should you on your way searching for this, a pajama party will firstly appear on the engine.
There is no need to put makeup on or wear fancy dresses. At a slumber party, attendants only need to wear the most comfortable and adorable pajamas (Actually, it is the "compulsory outfit" of this concept).
Only when your parents allow you to have an overnight party in your room can you start.
Therefore, first and foremost, let's ask for permission from parents and pledge to be healthy and safe during the party.
As the host, you can make a checklist of preparation. Firstly, turn the bedroom into a party favors with glow-in-the-dark accessories like balloons, string lights, ribbons, or fluffy stuffies.
Gathering and chatting is the ultimate purpose of a pajama party. As such, you can have a delivery service ship food and refreshments.
We suggest a simple and convenient menu for your light dinner party, including salad, cone pizza, and cookies.
Before going to sleep, you guys can also spend plenty of time on a spa night together.
Don't forget to record memorable moments with your friends with your camcorders. You guys can also take a hilarious photoshoot with this concept!
Please do not forget to clean your house after a sleepover party, which is a basic requirement to pass  your parents' test for permission!
4. Dare-Pong games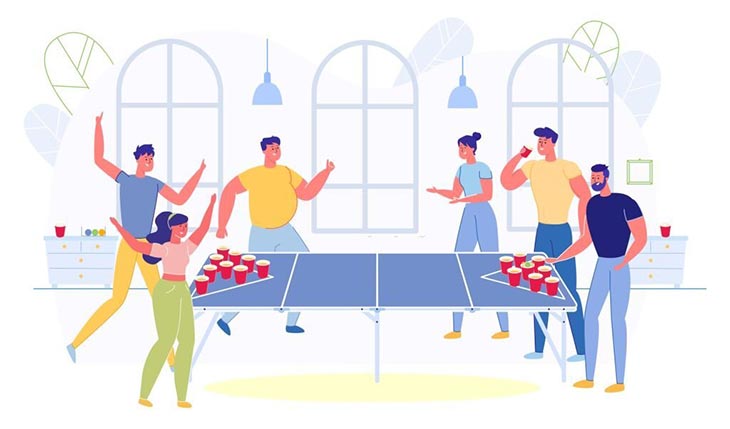 Among the activities for 15 year old boy birthday party, this challenging game can be a daring idea.
You can utilize any spacious area in your house as a gaming venue. We suggest the kitchen thanks to the long food table.
You will need ping pong balls, 10-15 paper cups, and pieces of paper with challenges. Two teams will stand opposite each other and throw the ball into the other's cups, respectively.
Dares will be applied when the ball randomly enters any cup; otherwise, you have to drink the beverage inside.
According to the original version, paper cups usually contain alcoholic drinks like beer or wine.
However, you are required to change to coke or light cider because of the age limitation. It also prevents you from the loss of control during playing time.
Last but not least, all the dares are better to be wholesome, non-sexual, and safe. We suggest that you search for easy, simple, and joyful challenges for every attendant.
5. Board Games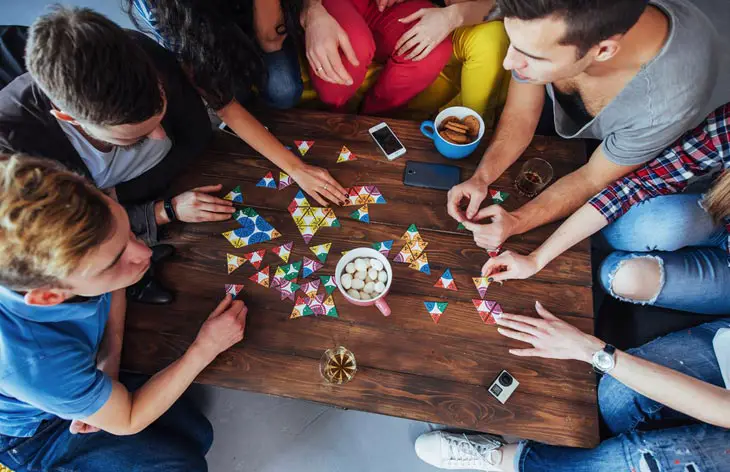 Board games are perfect alternatives if the dare-pong game somehow hesitates you. Funny, suspenseful, and thought-provoking explain the irresistible charm of this genre.
You don't simply follow the game rule, but you have to make strategic guesses and decisions for the win.
The two most popular board games are Monopoly and Werewolves Of Millers Hollow. Please note that the more, the merrier. That's why you can invite countless friends to join.
Watch Werewolves Of Millers Hollow game here:
These activities are also regarded as time killers because they can last hours and be even more interesting later.
Thanks to these favorite board games, there will be no place for boredom or tiredness on your birthday.
6. Unbox colorful gift boxes together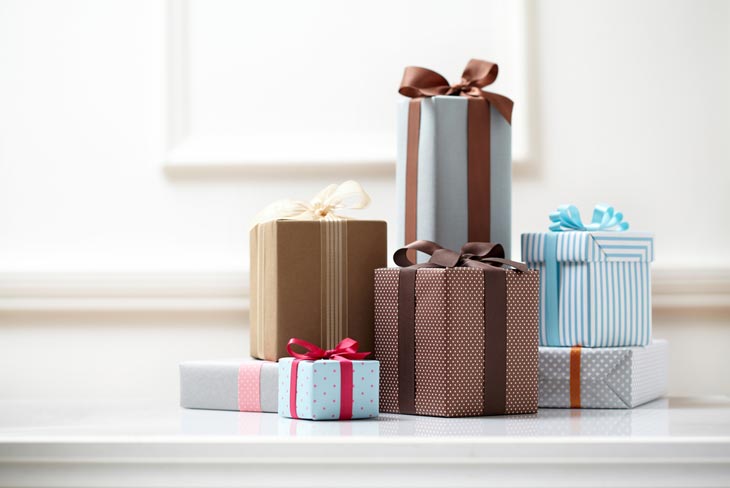 A simple but delightful activity is gift unboxing. The anonymous presents from party guests will be placed together.
Their colorful appearance can also be party decorations After enjoying a light party with birthday cake and fruit, you can start picking and unsealing random boxes.
You are sure to express lots of humorous feelings while revealing the secret inside the boxes. This way, you guys can share a lot of fun times together.
Then, try to guess who the giver is. Let your best friend record your reactions. We believe that you will be touched when watching these scenes again in some days.
Outdoor Birthday Party Activities For 15-Year-Olds
You are a social butterfly and passionate about hanging out for this unforgettable day. Here are ear-catching ideas for teenagers! 
1. Pool Party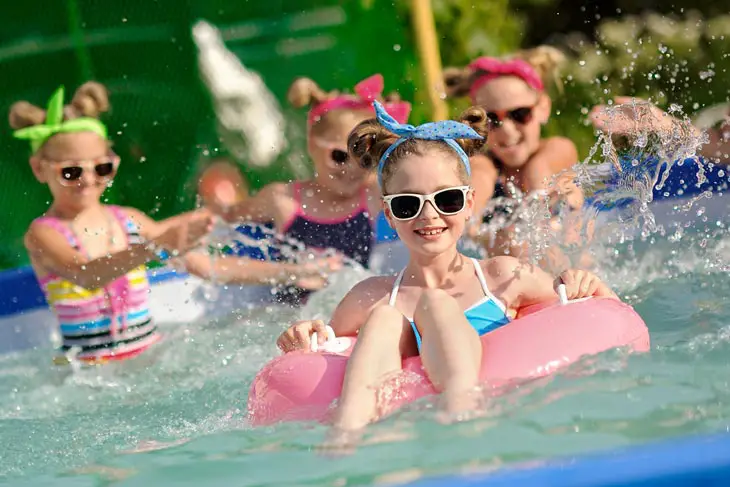 Put this option at the top of your wish list if your birthday is summertime. Aromatic side dishes are definitely indispensable at parties.
It's time to look forward to dipping in a cool pool while tasting fresh juice and grilled meat skewers.
Friends' bonding and party atmosphere can be more vivid thanks to the appearance of the music playlist.
In case your rented swimming pool is near residential areas, please control the volume, especially at night.
In addition, safety is always the priority. Make sure that the swim floats are supplemented as much as possible.
Currently, floats have various decorative designs that you can consider. They not only colorfully brighten the space but protect participants from unnecessary accidents as well.
2. Visit Amusement Theme Park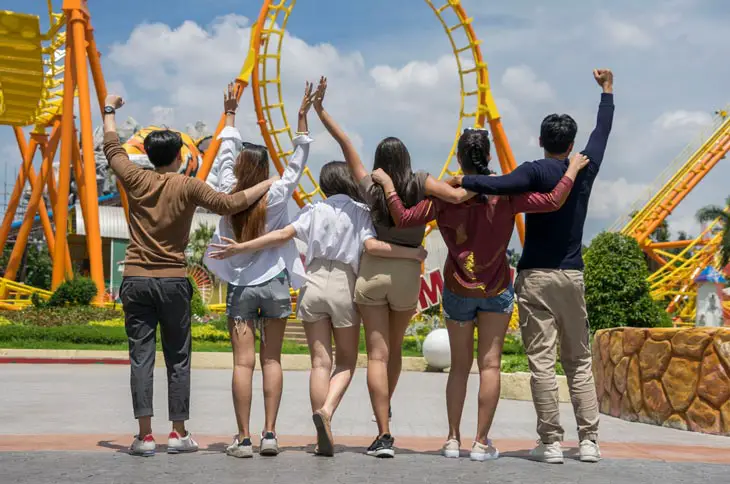 Wandering in a spacious park will bring you numerous amusing choices. You can buy pretty headbands (rabbit/cat ears) to take photos with your friends.
What's more, you can experience hundreds of indoor and outdoor games. In particular, thrilling games are always the ultimate factor attracting visitors.
Are you afraid of energy loss? Don't worry because several junk food booths are waiting to serve you savories and sweets.
Some theme parks develop additional global cultural events, offering opportunities to try different cuisine worldwide.
You are recommended to spend a whole day exploring every corner. On weekends, large-scale parades or fireworks are available in the evenings.
Performers will dress up splendidly or cast into well-known cartoon characters upon the vivid background music. What a marvelous scene that feasts on your eyesight!
3. Go Picnic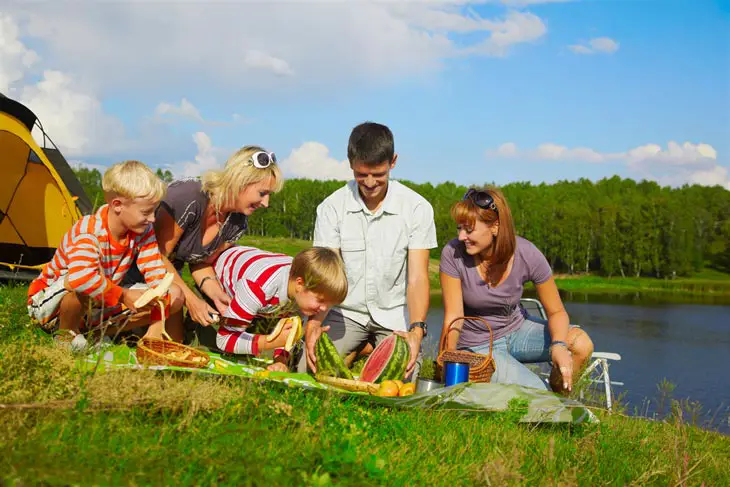 Daily hustle rhythm doesn't leave you an impression. In such cases, going on a picnic on your birthday is for those pursuing a peaceful and light ambiance.
The location can be a lawn, a large park, or specialized picnic areas. However, try having a picnic on the outskirts of the city. This way, you can feel closer to nature.
Refreshments for a picnic doesn't have to be complicated either. You might think of fried chickens, salads, sandwiches, and of course, cupcakes for birthday vibes.
Pack food and drinks into a knitted picnic basket, and turn it into a decorative item. A checkered-pattern picnic blanket is also one of the must-have stuff.
You can create your vintage concept photoshoot to capture valuable moments on your birthday.
4 PM onwards is the golden time for a nice picnic. The weather can be much more pleasant than at noon.
In particular, if you head to the beach, you can also observe the romantic sunset at about 6 PM. Nature will caress and ease your mind.
All you need to do is relax or recall old memories with your beloved. I bet that this is one of the most fun places to go for a teenage birthday party.
4. 2-Day-1-Night Camping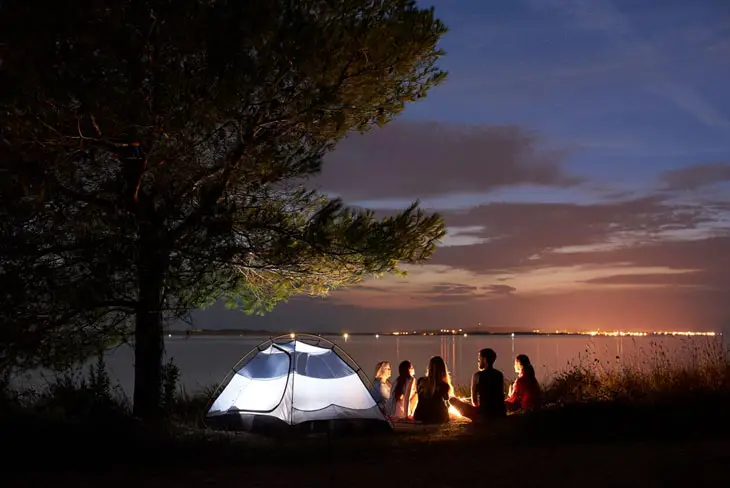 This outdoor activity is an updated version of a picnic, which is one of the most expectable 15th birthday party ideas.
So it requires more skills and preparation. It is wiser to embark on a trip with your family rather than friends only.
Adults can guide you on needed things as well as prevent you from risks outside the nest home. Self-driving or renting an RV is up to your family's financial budget.
You can learn more soft skills when you turn new age thanks to this occasion. Setting up a tent, building a campfire, or preparing a BBQ are experiences you should try at least once in your life.
And they become even more meaningful through family gathering moments. More than a birthday activity, familial affection can be enhanced significantly.
Some other necessary items are bug spray, flashlights, raincoats, and soothing creams (in case you suffer from insect bites).
5. Karaoke Party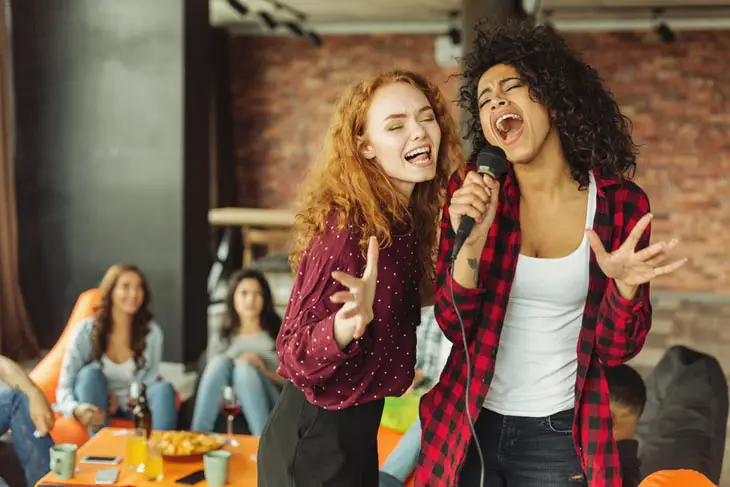 Have you thought of fun activities for 15 year old birthday party after dinner at a restaurant? Exactly, sing karaoke.
You are a music and dance enthusiast, but you rarely have the opportunity to showcase it in daily life? Take advantage of the special occasion and become a one-day singer.
In the party atmosphere of the singing room, you can show off your voice or cover any favorite choreography without being shy.
Almost all the karaoke services can connect to Youtube nowadays. Therefore, you can hold a dance party, and embed your voice in any hottest songs regardless of language.
6. Take A Volunteer Position At Any Social Organization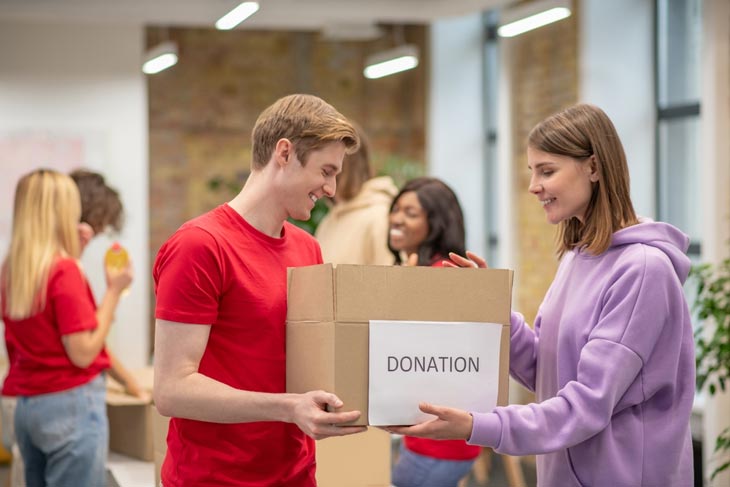 This final suggestion is a key to making your 15th birthday celebration more unique than ever.
Instead of fully enjoying life's pleasures, why don't you spread happiness to those around you? 
Non-profit social organizations always welcome enthusiastic and energetic young volunteers. And you completely manifest such vibes at the age of 15.
After some clicks on official websites, you can immediately take a position in social activities. Each place will teach you specific knowledge and skills.
For example, you can practice communication and language proficiency if you sign up at tourist attractions. You can explore wildlife when you volunteer in zoos or safari parks.
Or else, you can enrich your soul by trying out in museums, nursing homes, and orphanages. This way, you can be more mature and share your love with everyone simultaneously.
Through these volunteering activities, you will not only find life happier and more meaningful but also alleviate your anxiety and insecurity as a teenager.
Conclusion
To sum up, the fun ideas for teenagers above can be applied to both family and friends. We hope that one of the 12 birthday party activities for 15 years old can win your heart.
You can also mix multiple activities, making your 15-year-old unforgettable.
Despite the different formats, these activities are all devoted to only one purpose: to give you delightful, exciting, and significant moments with your beloved ones.