Besides mothers, fathers play an important role in the children's life, especially in their toddler years.
How fathers interact with their daughters can form their personality, behavior, and self-esteem.
If you don't want to be absent from your princess' first years of growing up, try out our recommended father daughter activities for toddlers.
We guarantee you and your sweetheart will have the most priceless moments ever.
At-Home Activities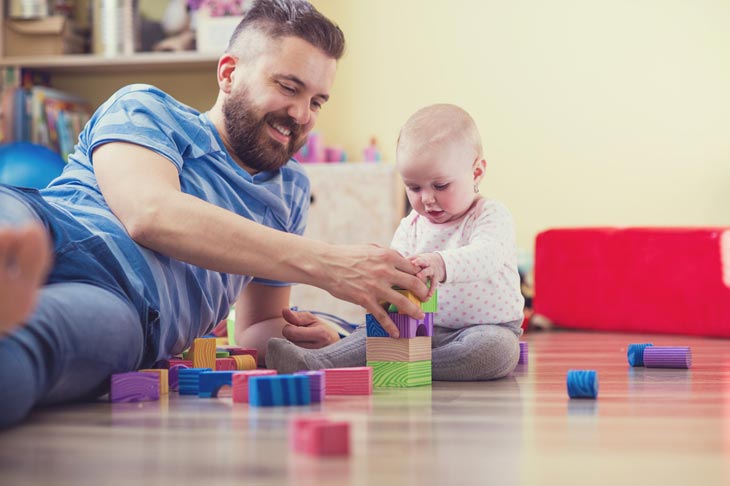 Art, Craft, And Science
The easiest activity for art and craft time is painting and coloring. Kids love to play with colors and create colorful pictures.
Give them some crayons and a piece of paper to freely draw anything they want.
You can provide them with coloring and tracing books; surefire, she will plunge in joy, spending time with you to complete a page.
Science is never boring, and nobody is as good at at-home science experiments as a father.
There are thousands of easy experiments available on the internet that you can show your little girl. She will be surprised and admire the "magic" you can do. 
Learning Activities And Education
There are various father daughter activities for toddlers that can improve their critical and logical thinking.
Introducing number and word flashcards and creating small fun games is how you can help them learn some new words.
Activity books such as early math, shapes, mazes, etc., will work wonders. You can instruct your sweetheart in doing the exercises and have fun together at the same time.
Reading books comes in handy to enhance the relationship with your daughter. You will see how your toddler is absorbed in listening to the fairytale you tell them.
Time For Games
Sometimes, a baby cries with mom but not dad. Why don't you take this advantage and have fun game time with your little one?
Kids are obsessed with games, and playing with their dads would be the icing on the cake. Try some simple games that you and your sweetheart can play together at home.
Board games, card games, puzzles, etc., are ideal. 
If your princess can't sit longer for those games, switch to some movement ones. Here, we suggest playing hide and seek, an old but gold game.
The great thing is your toddler can easily find a place to hide inside the house and never lose the excitement of waiting for you to come and find her.
Chores Activities 
You may wonder if you can play and do household chores at the same time.
The answer is yes; you can do so with productivity tasks such as folding/hanging the clothes, washing the dishes, making the bed, cleaning the room, etc.
Toddlers are active and tend to copy what we do. Show them how you fold the clothes, and they will try to do the same.
Although the result after folding is not perfect, your daughter has already learned something and had fun.
In addition, small competitions in father-daughter activities at home create an exciting atmosphere and encourage your princess to interact with you more. Seeing who can quickly clean up more toys is a good example.
Cooking Together
Bonding time together in the kitchen shines as a good way to strengthen the relationship between daddy and his little girl.
One of the most interesting dishes to make is cookies. Let your sweetheart play with the dough under your attention and stay away from hot stuff.
Making some dishes can teach your little girl to be patient and follow instructions correctly.
If you are looking for some father and daughter activities for a teenager, cooking stands second to none.
Daytime Outdoor Activities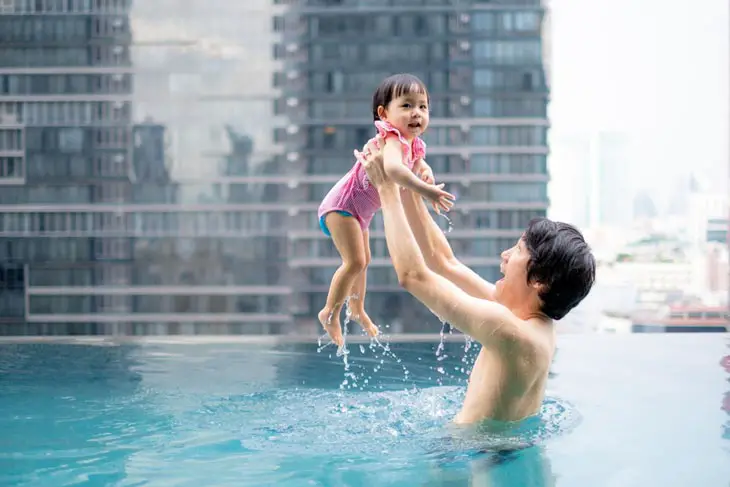 Picnic
If you're tired of staying at home, let's bring your princess out for a picnic. Looking for father daughter picnic ideas? Here are some suggestions for you.
A nearby park is an ideal location for all family members to enjoy. Prepare snacks, drinks and fruits, and some toys to play with outdoors, such as a ball or frisbee.
Furthermore, we bet your toddler will enjoy setting up a tent as well.  Playing outside is one of the perfect activities for 14 month olds.
Take your kid to play on the slides or swings inside the park. It will be a memorable and valuable moment that both of you can't forget.
Swimming Time
Children and water are destined mates, and they don't mind getting wet, so take your baby to swim.
When the weather is sunny, it's the perfect time for an outdoor swimming pool; or if you live near the sea, then there is no better place than that to have fun with water.
You can still go to the swimming pool with your toddler if the weather is not really nice. There will always be an indoor swimming pool for you two to enjoy the warm water.
You can play splashing water with her, show her your amazing swimming skills and teach her to do the same.
Swimming is one of the father daughter activities for toddlers that improves kids' fitness, coordination, and motor skills.
Aquarium Or Zoo
An aquarium or zoo is one of the fun places to go with dad and daughter. Toddlers are always curious about the world around them.
You can broaden their knowledge by showing them different types of animals. Your princess will be so excited when she sees the real animals moving.
Don't forget to take fun photos of you two to capture the memorable moment you spent together!
Pottery 
Another option to spend time with your sweetheart is painting pottery. This activity is simple but brings lots of fun. You both can choose pottery to paint it colorful and beautiful.
It will be great if dad and daughter can make pottery art from scratch.
Making the desired shape and throwing it on the wheel not only fascinates her but also improves her creativity and artistic talent.
Nighttime Outdoor Activities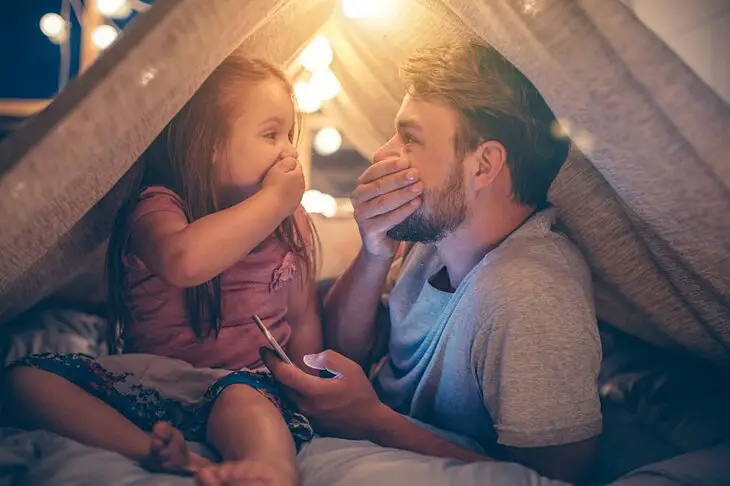 Dinner Out
Seeking daddy daughter date ideas 4 year old? Let's dine out! Your princess will jump with joy if you ask her to eat somewhere.
Mcdonald's can be a good choice or any other place that serves her favorite dish. Fill up her stomach with food and her heart with happiness.
If your toddler is practicing baby-led-weaning, eating out can make her more excited to show her professional eating skills.
Moreover, it's a good chance to teach your princess some table manners. You will be surprised at how fast she remembers and practices them.
Night Camping
Backyard night camping is never out of date among father daughter activities for toddlers that you can consider.
Set up a tent, decorate it with princess style, hit the fire, and roast some marshmallows or any sweet stuff. How cozy and warm it is!
During the night camp, you can talk with your little girl about her toys, friends, favorite movies, or anything she loves.
Singing and dancing with her will lend the atmosphere an even more excitement. This activity can improve your baby's movement, language, listening, and social skills.
Sleeping Party
You can end the day with your princess by having a sleeping party. Dress in cute pajamas like hers, even though you may feel awkward, but your little girl likes it.
It's such a comfortable feeling to hug your princess and read the bedtime stories together.
Before sleeping, give some daddy daughter activity gifts. Your little girl deserves presents for her effort and performance during the day.
A pair of tickets to visit the cinema next week for both of you will make her jump. It's how you plan the next date with your princess.
Conclusion
We hope our list of activities above can help you build a daddy-daughter bond, create memorable moments and let your little girl grow in love and care.
It may be hard to find time to do those father daughter activities for toddlers, but if you try your best, you can make it regularly and become a norm between you two.
Wish you two a happy time together!