Each day passes, and your kid turns 14 months old and has become more independent. So you can ultimately spare more time for yourself, do your own job, and be more productive within a single day.
Still, activities for 14 month olds also become more challenging, as they are now more curious and aware of the world.
You are not alone in seeking things to do with 14 month old. Your search is our motivation to be here.
We will list an interesting list of activities for your baby at this age. Follow us now to reach the answer to your interest.
List Of Activities For 14 Month Olds
Wooden Puzzles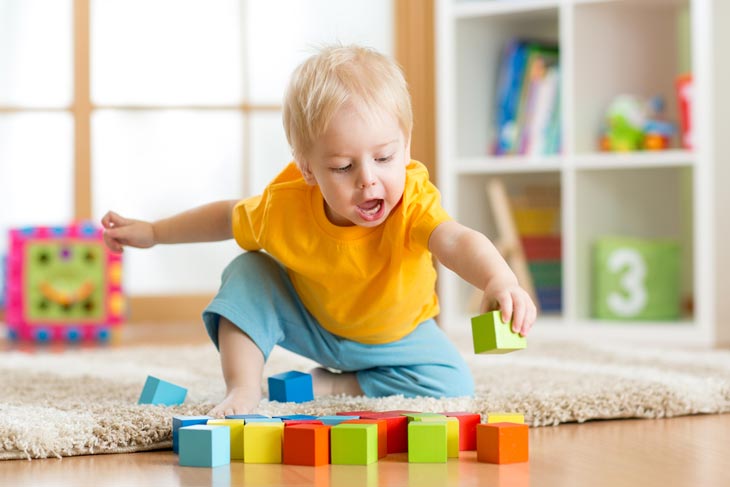 For the first choice of activities to do with 14 month old, we want to recommend a game with puzzles for toddlers.
Wooden puzzles are chunky and ideal for improving motor skills well. When your kid works and plays on these puzzles, she arranges and fits these toys into the right slots.
So the game helps her develop these fine skills and eye-hand coordination.
If your house doesn't have any wooden kits, you can visit some toy shops. It isn't tough to encounter the right one for your baby.
There is a wide range of types in the current market when it comes to wooden puzzles.
Yet, the construction vehicle and farm animals' wooden blocks make a very good impression on most parents.
Pick the right size, colors, and styles that conform to her, depending on your toddler.
Enjoying Outdoor Activity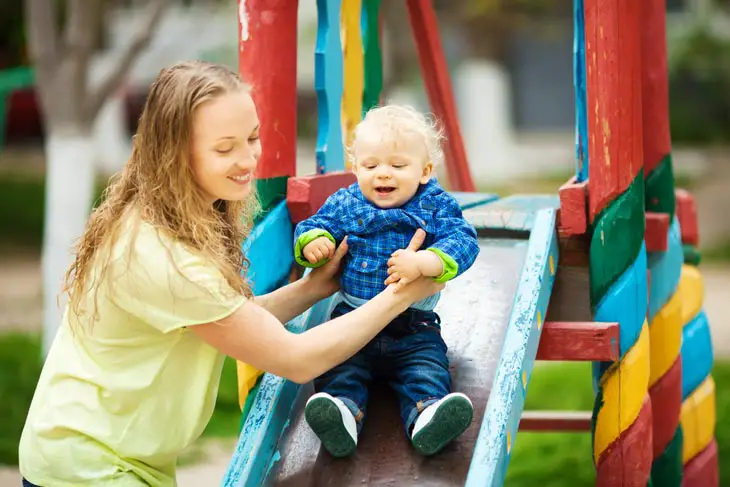 Fed up with activities for 14 month old at home? Let's plunge into the outdoor world. That is the breath of life!
There's so much to view and to do outside. Outdoor activities are a wise opportunity to develop sensory growth and experience.
Take your baby out of a stroller or the carrier to the land and explore new things, whether at a beach, a playground, or a park.
The sensory activities will come with an array of "sensory tastes" from the interesting environment.
Hiding Some Toys Under Blankets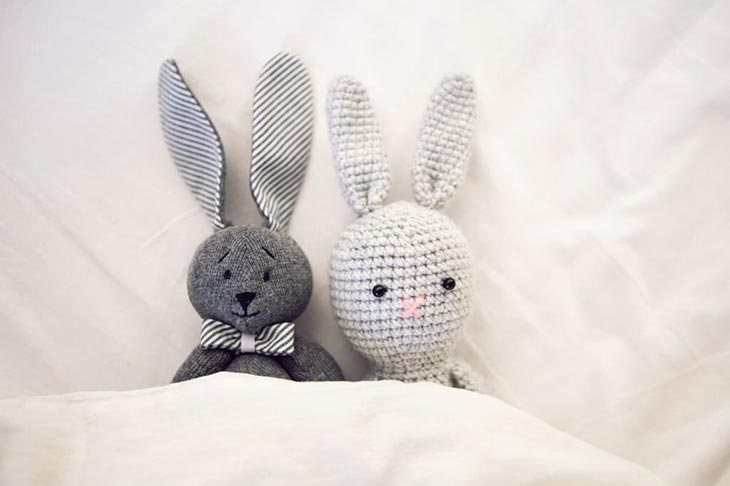 This game is pretty simple. You can enjoy this game anytime and anywhere in your house. You just need to put some toy or doll underneath a sheet/ tablecloth/ or a baby blanket.
Don't forget to give your kid some hints and let him find them. Once he finds it out already, you will hide another one more carefully a bit.
This can work in stimulating your toddler's curiosity and promoting his physical skills.
Pushing Toys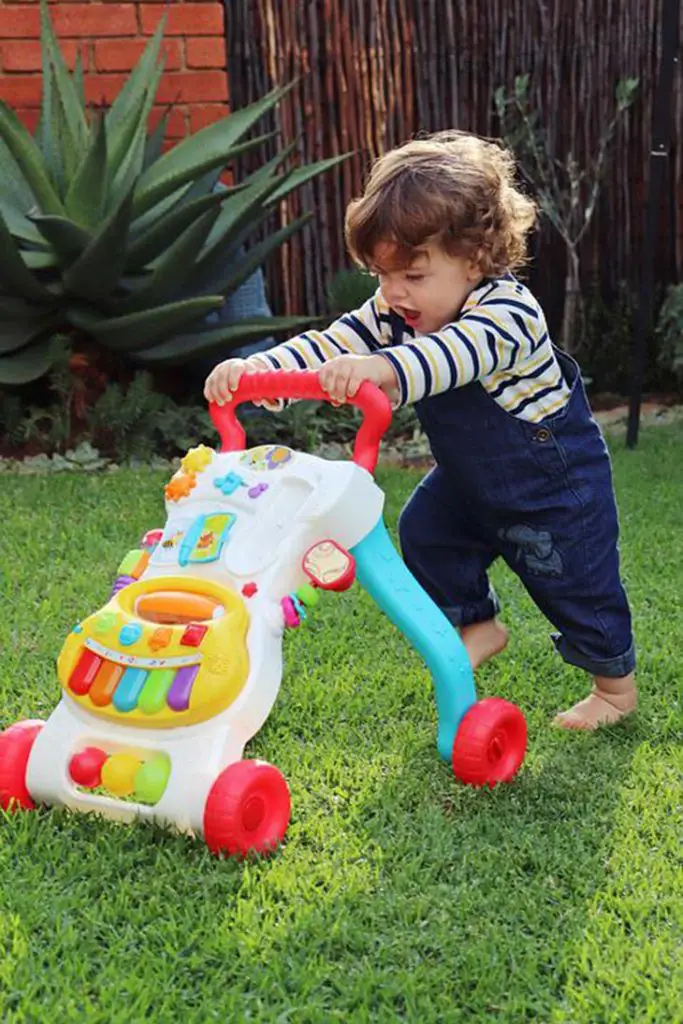 Kids, especially 14-month-old toddlers, are the ideal age to bring pushing toys to them. This toy pushes your baby, scanning his environment for challenges or obstacles and moves to avoid them.
Not only does the game aid in developing their motor skill of tottering or walking, but it also supports hand-eye coordination. These moves help kids develop key muscles when they play games.
If parents intend to seek an economical push toy that toddlers can play with for years, we completely recommend a lawnmower, a baby doll stroller, or shopping carts.
Furthermore, this kind of toy delivers a chance for kids to mimic what they can regularly see their parents do.
If you have a chance to join kids' Hampton roads activites, you will get the best experience a bout this activity in here.
Feed Animals With Some Pom Poms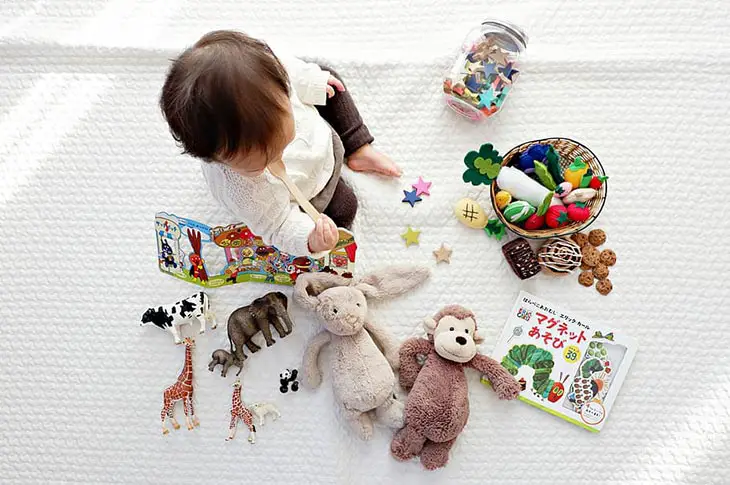 Pom Poms is one of the great games for 14 month old to build their sensory exploration.
It is prominent to utilize various sensory materials to classify uses so toddlers may learn to handle various objects.
Some Pom Poms are perfect for classifying because, excluding practicing pinpe grasp, a kid has to hit them past the vent in its sorter.
This sorter could be made easier with a certain container tissue, yet any tissue box might also be utilized as long as you create the opening around the size of your pom-poms.
Pulling Games and Toys
Pulling is more difficult than pushing a lot, so when your kid begins to push dolls or toys, shift to pulling things.
He has to keep one of his arms behind him while looking backward and forward. This is wonderful for physical development.
It's not necessary for you to purchase pulling toys, yet we recommend having one or two. It could be as simple as dragging some leash on the land or pulling some balloon behind.
Putting Things or Toys into Another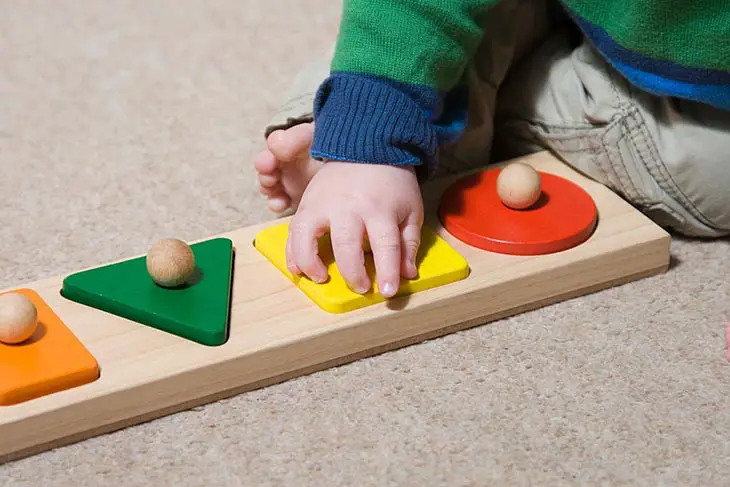 During playing time, almost 14-month-old kids accidentally put anything they catch into another thing.
It is such an effortless activity that you might turn it into a tidy-up game anytime you find some messes around your kid's playing area.
Take some baskets or boxes and let your baby gather balls, craft items or small toys into the container.
For example, guide him to place toys into the yellow box, spoons into the red basket, and mini cars into the white container.
This game looks like a simple activity, but it helps your kid learn about shapes, sizes, closing, opening, arranging, and problem-solving skills.
Play with Ice pops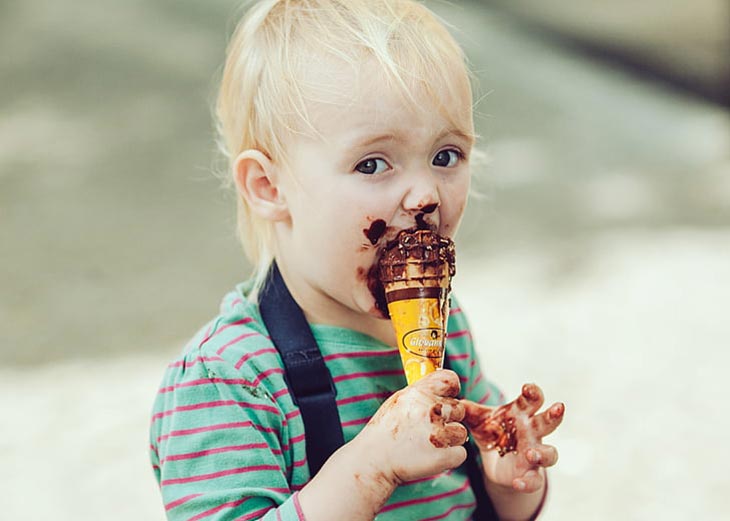 This can be viewed as an ideal option for father-daughter activities, perfect for educating and guiding young senses toward the right way.
It will show children a new concept of frozen/ cold; they might learn about shape, length, and colors.
In addition, if you mention the quality of ice pops, the game can offer a wide range of vocabulary lessons for your toddler.
When kids try to link objects with new words, the world shows a new and interesting meaning or lesson for them.
Messy Play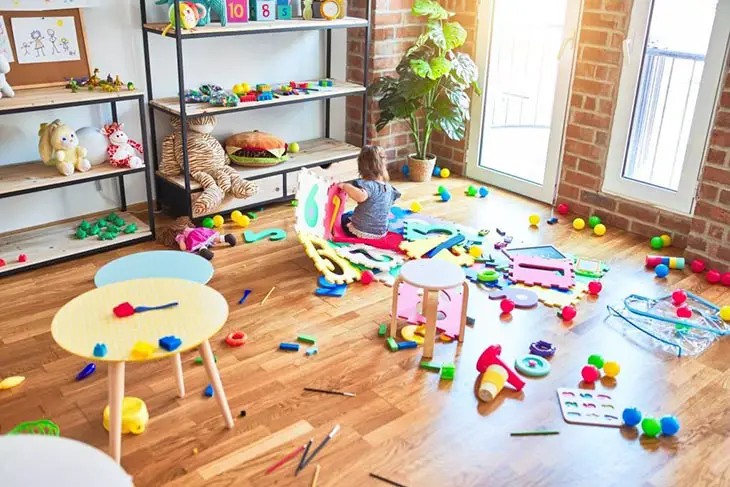 In the next position for 14 months baby activities, we will mention Messy Play.
The key target of the sensory game is to stimulate the senses, especially the tactile operation, and discover various textures. They can be dry, wet, slippery, slimy, hard, or soft.
Your kid will find out with their feet or hands. Tramping their feet past the mess might be interesting and fun activities to them.
Sometimes, your toddlers can put these things into their mouths. That explains why we would suggest enjoying it with non-toxic items alone. Edible things are best.
Some great ideas for a messy game consist of cheerios, budding, soft foods (sweet potatoes, banana, avocado), quinoa, noodles, flour, jelly, etc.
So how to play this game, take a look the compact guide below:
Pick containers and location. The mess might be spread through some small kiddie pool, plastic container, or bathtub.
Select the "messy" thing. You can choose from any of our ideas mentioned above or continue with your own ideas.
In addition, you will want to enhance more interest and fun by adding spoons or cups. They can dump and fill. Also, you can cover items such as mini plastic cars or animals, so your toddler needs to dig and find through to get them.
Tidy-up. Attempt to involve your kid in this process.
Play With A Seek And Hide Board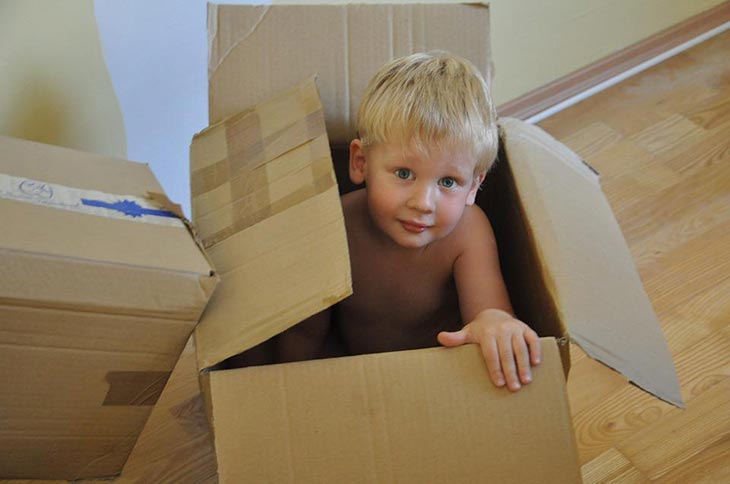 The board indeed has become a hit for most parents who have 14 months old kids. They are into opening little gates and discovering a certain animal there. Children learn animal sounds and names.
By doing that, it also becomes an outstanding memory game. The activity will lend assistance to improving the memory, language, and motor skills of your toddler.
Water Play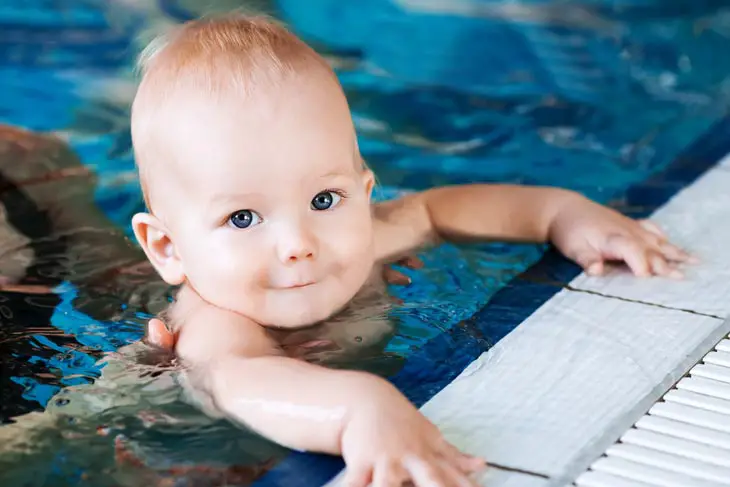 Perhaps all children are keen on playing with the water; this is among activities for 14 month old boys and girls.
As kids will tend to drink water when they play with mugs in the water, parents don't add coloring, even food coloring, to this water.
This step will help to keep your children from having some unnecessary problems related to tummy with water.
You can spice up the game by adding some mini plates to place animals on it to float.
Also, you should consider choosing some stacking cups for your kids and accompany them to watch the water move cleanly through the bottom of these cups.
This is also one of the best father daughter activities for toddlers that you shouldn't ignored.
Play Some Games With Foods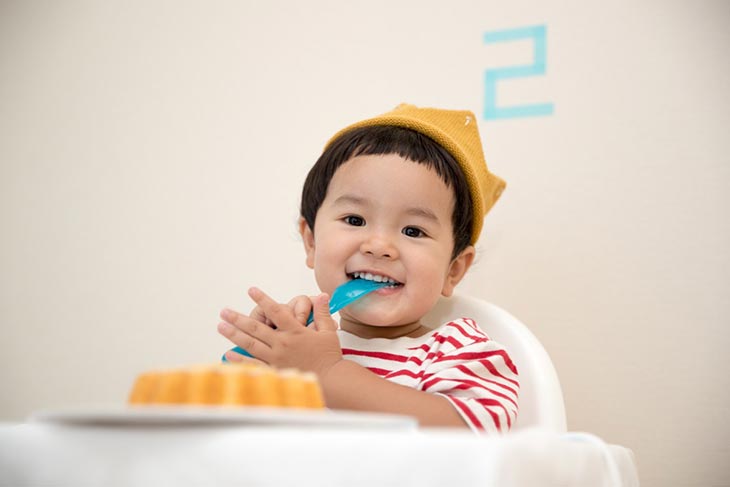 The game is indeed for your toddler if he is a picky eater. This activity might surprise you with its capacity to whet  your kids' appetite.
You try to set up the game into your child's routine as some main meals within a day.
You can play with him with the "Take a bite" activity. Some works are lovely, like "hugs", some are funny and interesting, like "tickles" or "have a silly face", some are wise, such as saying "take a bite."
And then your toddler will eat or bite his food among different actions.
This activity indeed brings so much innocence and cuteness with an array of kisses, tickles, and hugs with your baby.
Instead of boring and long meals, parents and children will have wonderful memories during eating times.
Match Bottles To Lids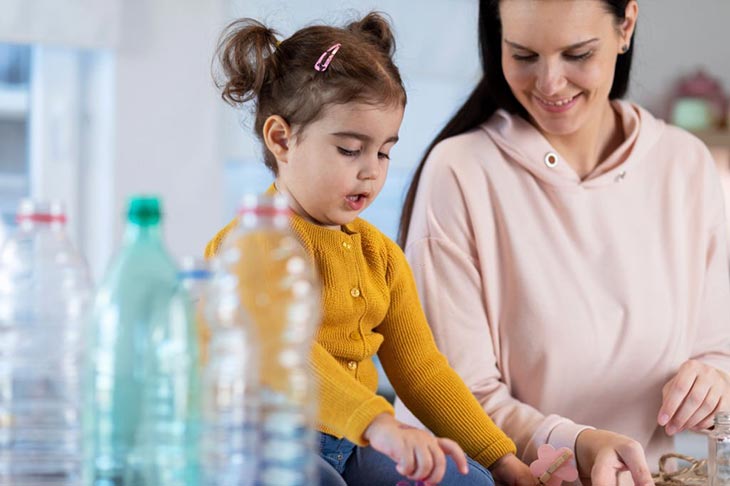 The game is pretty easy to establish, which your kids would love to do every day. All things you need to prepare are a few empty, clean plastic bottles, and your kids have to choose the right lids.
It is a bit tough for small hands to fit a cover on a bottle, and they could need more practice.
In addition, there are a lot of lids of various sizes and colors, which gives your kid more challenges. They have to see and choose the correct one.
The activity helps children to develop great powers of observation, stimulating their brain's wonderful ability to remember and recall information by size and shape recognition.
Enjoy Patty-Cake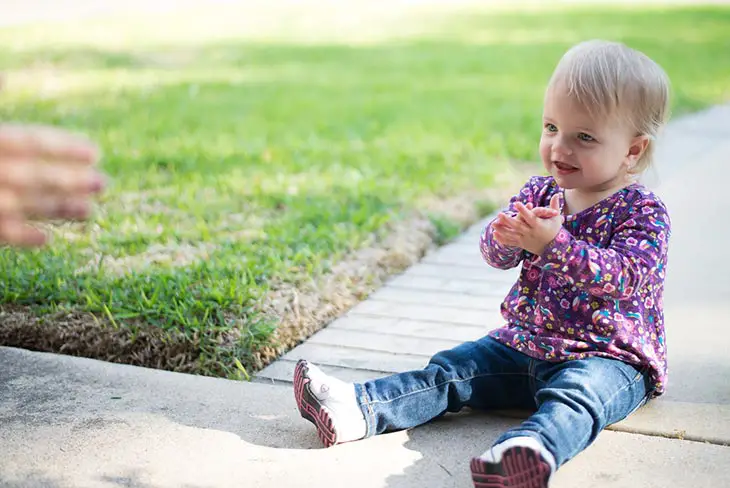 In fact, many parents suppose that patty-cake belongs to one of the goofy and annoying games for babies. Yet playing the activity is really good for your little kids.
Fourteen months old is the ideal age to start the toddler's learning, and the imitation builds up a great base to learn something new. Patty-cake is a prominent activity to work on emulation.
Learning to mimic is really a crucial part of childhood. Kids copy behaviors that assist them later in this life.
Some research indicates that imitation plays a key role in some first tears of any kid's life, with social and language development.
Squishing Play-Doh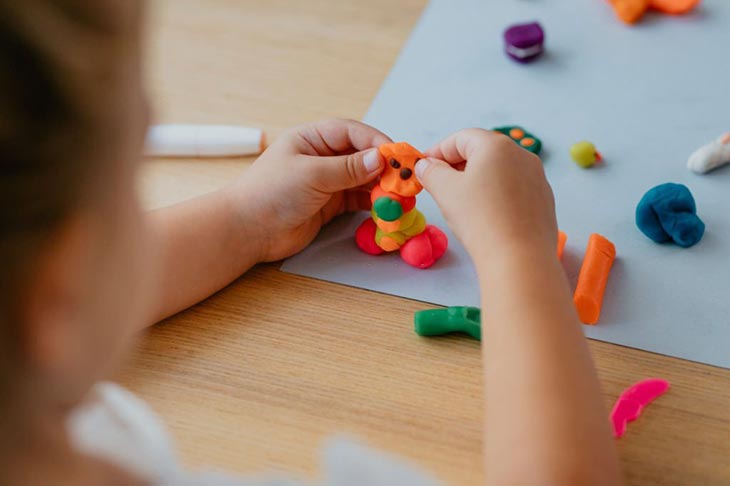 It is no exaggeration to say that play-doh is an item all children love. Yet we have to remind parents to put more attention on their children to avoid them biting it.
You can make a handmade play-doh for your baby if you have more spare time.
Yet, there is a broad range of colors and shapes of play-doh on the current market. You can pick some that meet your children's tastes of size, color, or price.
You can give more challenges to your child by grabbing some plastic letters, spoons, other dolls, or toys and showing her how to squish these objects onto the shape of a play-dough.
The activity will foster your baby to learn more about shapes, letters, and colors. And from now on, that will effectively improve his fine motor abilities and brain development.
Comic or Lift-Flap Books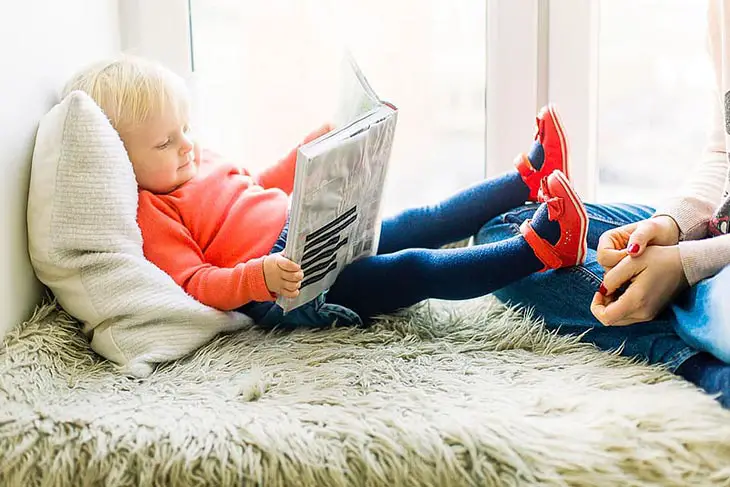 Reading is a good way to shape the education, language skills, speech development, cognitive, and listening skills for your toddlers.
Parents should save time to read for kids day by day, at any age.
14-month-old kids might be especially interested in these books with many surprises behind each page. It isn't hard for you to get a lift-flap book about any subject, from nature to zoo.
So it would be very beneficial if you visit a bookstore weekly to get new interactive books and build your own book collection for your kids.
Tada! This is also the last option for 14 month old activities. 
Bottom Lines
We have just passed through the round-up of activities for 14 month olds. Each kid grows up in their own ways.
If your toddler isn't interested in or ready for this period's activities, no worries; just try them again after some weeks.
How to play with a 14 month old isn't simple. So don't forget to interact with your toddler and slow down, allowing him to become accustomed to the new games.
This won't just build some beautiful memories but strengthen ties between you and your kid.
Finally, thank you for your company, and see you in the coming practical content on our channel.