Raising a child is not easy, and finding a suitable crib for her is also challenging because there are too many types of cribs nowadays.
Many people are confused between mini crib vs crib, and they don't really know which one is the best for their baby.
When choosing nursery furniture, buyers need to look at the dimension, mattress size, color, and design. This evaluation progress may take up a lot of time.
This article will give you a thorough overview of the key difference between the mini crib and the standard size crib.
The Difference Between Mini Crib Vs Crib

Dimension
Dimension is the most apparent feature that illustrates the distinction between a mini crib vs full crib.
In normal production, a big cradle is 28 inches wide and 52 inches in length, which is fittable for a big five-month baby.
A common mini cradle is smaller than the full-size one, measuring only 24 x 38 inches. You can see the big difference in scale between the two cribs in reality.
Regarding the height, the standard size crib is 6 inches higher than the small one. When you measure the mattress from the top of the crib rail, you'll see that the normal one is at least 26 inches, but the mini one is only 20 inches.
However, this dimension is still engaged with the safety regulation of producing beds for children.
Mattress Size
The difference in dimension of mini crib vs regular crib size will lead to the disproportion in the mattress size.
The big cradle has a 28 x 52 inches cushion, while the undersized cradle fits well with a 24×38-inch one.
A mini crib mattress can be put on a larger crib, but a standard crib mattress can not work in a small-scale cradle.
Therefore, you had better take the precise dimensions of the bed before picking up a new mattress. Moreover, it could be a bit tricky to find a small mattress size as there is little demand for a small cushion nowadays.
Portability
When it comes to convenience, the smaller the crib is, the easier it is to move it to another place.
As we have mentioned before, with a moderate height of 20 inches and 24 inches wide, it can be repositioned easily by the strength of one person.
In contrast, the normal crib is quite bulky, so you will need at least two people to lift it.
Additionally, some small cradles even have rollers on the four corners. These portable cribs can come in handy when you want to move the baby to another place without waking him up.
Some types of cradles can be folded into small ones; it is not too challenging to find those upgrade versions in the stores.
Weight
Providing that the cribs are made from the same materials, the weight limits of the crib will be compatible with its dimension.
Regularly, the manufacturers will produce the cradle with a heavy load double the child's weight.
A big cradle can accommodate a 50-pound (or 20 kg) infant. In the mini crib sizes, the load is 5 pounds smaller than the standard size crib, which implies that a 45-pound child can sleep well on it.
Also, a child can not reach 50 pounds until he is four years old, so there is no need to worry about the weight limits of the cradle.
Color & Design
From the outer appearance perspective when comparing a mini crib vs standard crib, both vary in color and design. The color range is classified into two types: solid color and mixed color.
For instance, Purple Pink could be suitable for your baby girl. If you find a color that can be matched with both genders, the mixture of Navy Blue and Baby Powder will be the best choice.
About the designs, this nursery furniture has many shapes, such as oval shapes, rectangle shapes, etc. Especially, the mini cribs have  a round shape, which is quite cute and modern.
Material
There is no clear line between a mini crib vs regular crib regarding material, as they are made from hardwoods such as oak, maple, birch, and ash due to their color durability and stability.
Some cradles are made from softwood like pine. However, this softwood furniture doesn't look as good as on the website.
Versatility
Although the small crib is more portable than the full-sized bed, it doesn't have as many functions as the big one. The small size can not be converted to other types of bed.
In contrast, a standard-sized crib has a lot of convertible versions, such as 2-in-1, 3-in-1, and 4-in-1.
However, don't let those numbers mislead you; the more functions it has, the less stable it will be.
A normal full-sized crib can be transformed into a toddler bed, a day bed, or even a full-size bed.
Therefore, even if your baby is outgrowing unexpectedly, he can still sleep well in that convertible crib.
Pros And Cons Of Mini Crib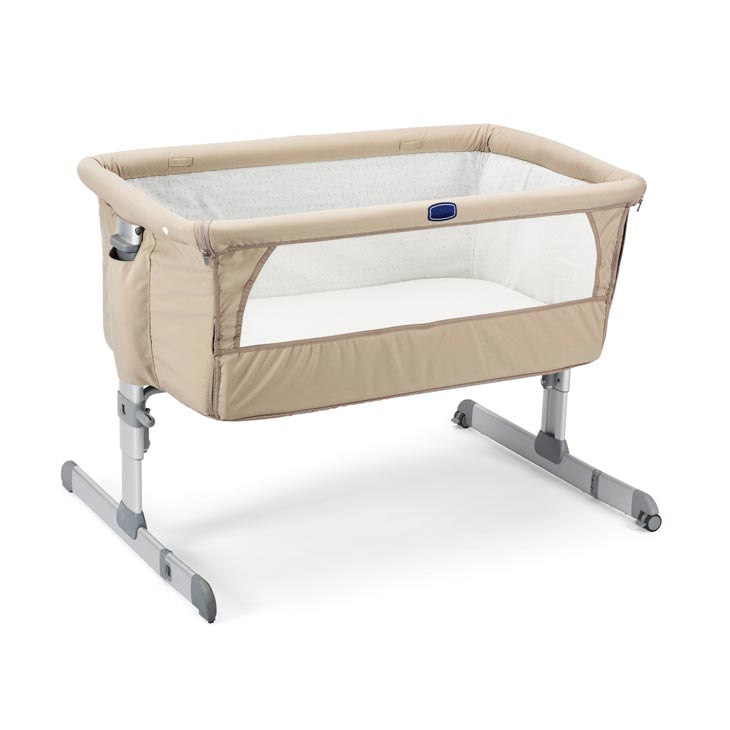 Pros:
Need less space
Better portability
More economical
Good weight load
The best alternative for bassinets
Easily folded
Cons:
Limited time usage
Less stable
No standardized dimension
Pros And Cons Of Regular Crib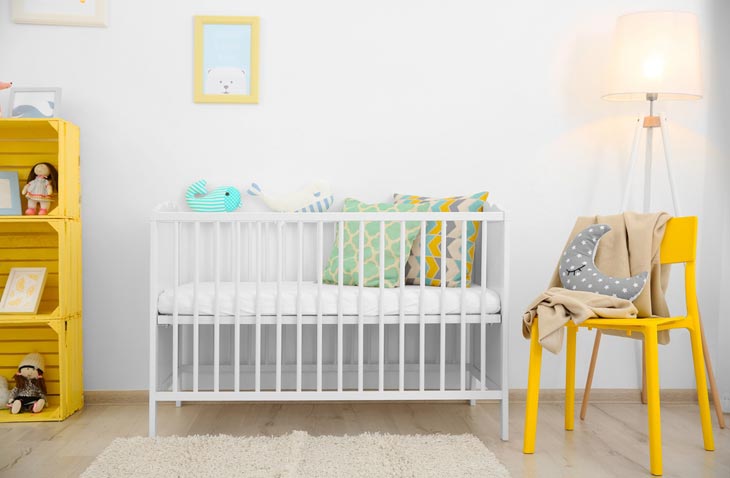 Pros:
Bigger than the mini size
Longer usage
Better durability
High weight load
Standardized dimension
More versatile
Cons:
More costly
Bad portability
Takes up a large space
Tips To Choose The Best Crib For Your Baby
Selecting baby cribs requires a lot of evaluation, so we should take serious thought into this furniture since the mom is pregnant.
A perfect matching cradle must satisfy all of these standards:
Spaces between the bars: To withhold the baby from falling out, the distance between the bars must be no more than 2.5 inches (approximately the width of a soda can).
Corner bracket: This is the residual part on the corner post. It is advisable that it should be less than ⅛ inch so that your baby's clothes won't stick on the crib.
Corner posts: It is very dangerous for your baby to play with those sharp corners in the crib. For the sake of the child's security, the top of the corner should be rounded and small. 
Mattress dimension: There is a simple trick to check up on the fitness of the mattress. You put your finger on the cleft between the crib sheet and the crib.
If your finger fits well on the cleft, your sheet is not equivalent to the crib, and you should switch to the larger one.
Product information: This is a crucial task whenever you choose a cradle.
The crib with detailed information and meets safety standards of the U.S Consumer Product Safety Commission would be a perfect choice.
FAQs
Are Mini Crib Vs Bassinet Safe To Use?
Generally speaking, both small cribs and bassinet are safe for children. As long as the furniture is bought from a prestigious retailer, they are all satisfied with the CPSC standard.
Therefore, either of them is sturdy and reliable regardless of external impacts.
Moreover, the crib's height is designed properly so that your baby can not reach out of it when he is playing.
Hence, both bassinet and mini – cribs are made from wood; there is no need to be concerned about cracking problems once they have to sustain a high weight load.
Additionally, one thing that distinguishes the bassinet from the crib is that the bassinet has a small curtain to block the harsh sunlight to protect the baby's eyes.
When Should We Switch From Bassinet To Toddler Bed?
If you wonder: When is a baby too big for a bassinet?, there is no specific time when your baby has to move forward to a full-sized crib.
In common norms, parents usually upsize their baby's bed when they reach 14 months or three years old.
This is because the infant starts to grow quickly during this period; the fast-growing pace of the child may exceed the dimension of the bassinet.
In some cases, the mom has a newborn baby, and you don't want to spend money on the second bassinet. You had better prepare a standard crib for your old child on this occasion.
Nevertheless, making babies leave their own "house" is not easy because they need time to accommodate a new bed.
It would be best if you inform them about his new "home" 2-3 weeks in advance. If your little ones find it hard to sleep in their new bed, you can place the crib in the previous bassinet's position.
Can I Use A Standard Mattress For A Mini Crib?
According to many nursing professors, parents should not utilize the standard mattress for a small cradle.
Using an incompatible cushion for the child's bed can make the sheet shrink, and your baby can not sleep well on it.
A suitable bed sheet will bring the best quality for the infant's sleep. The parents should carefully double-check the bed's dimensions before picking an additional mattress.
Are Mini Crib Vs Pack And Play The Same?
Regarding function, both mini – cribs and Pack and Play are the sleeping beds for infants.
They are installed with rollers to move more easily, and they are commonly in rectangle shape.
On the other hand, there are distinctive characteristics between the two beds' constructions. Unlike the hardwood crib, Pack and Play is made from fabric, plastic, and aluminum.
Moreover, the playground does not have bars; it is installed with two fabric sheets to build comfort for the infant.
Most Pack and Play are smaller than the standard cradles and bigger than the mini – cribs, yet, their mattress is not as thick as the mini crib's.
Wrapping Up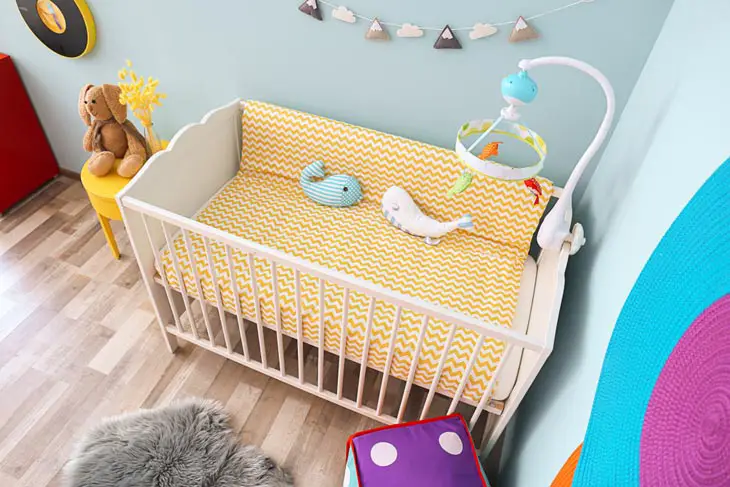 In summary, there are big distinctions between mini crib vs crib. They are mainly different in dimensions and mattress size.
It is urgent that you carefully consider those characteristics before making a final decision.
If your living space is narrow, a mini crib will be an optimal choice. In case you do not want to change the crib twice, a full-sized crib will hit the spot.
We hope this article will be beneficial to you; should you have any questions, please leave a comment below!