Acne is a common skin problem in babies' faces or bodies. Tubby Todd baby acne stands out as pretty popular among parents in the pool of treatments for this.
However, the fear of allergy and the doubt about the product's effect is still there for those who have never heard of it.
In that case, let us help you. This article will give you insights into the ointments and how it works on your infant.
Overview Of Baby Acne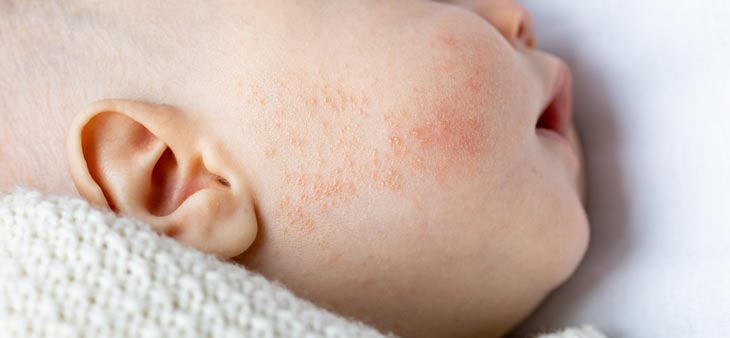 Definition
Baby acne is a condition caused by maternal hormones. It appears on babies' skin, causing small white or red pimples.
Normally, it will disappear without resorting to medical treatment.
Some people often mistake baby acne for infantile acne; however, there are some dominant differences between these two conditions.
While the latter often results in blackheads, the other doesn't have this symptom. Plus, if you don't treat infantile acne properly, it can leave permanent scars.
While baby acne only lasts several months, infantile acne can affect your child until two years old. The good news is the latter is less likely to happen to kids than baby acne.
Symptoms
A baby with acne will have red, white bumps or pimples. The area surrounding the bumps can get a little irritated and reddish.
The symptoms appear on the baby's face, especially on their cheeks. You can also find it on their neck or back in some cases.
When the infant fusses or cries, the acne will get redder and swelled even a bit.
As the problemed area is really sensitive, rough clothes or contact with vomit or saliva can worsen the condition.
Acne usually happens to babies a month after birth. However, there are babies with this condition right after they're born, too.
Is Tubby Todd Acne Good?
Yes. Tubby Todd products can bring your precious baby smooth, tender, and completely rid of acne skin.
To achieve this result, you need to carry out the necessary steps to care for problemed skin, which we'll go into detail below.
Tubby Todd Baby Acne Reviews
Tubby Todd is a brand founded in 2014, specializing in providing body care products for sensitive skin.
Coming to Tubby Todd, you'll find everything necessary to build a healthy and gentle daily routine for sensitive skin. There is hair and body wash to clean your little one.
The next step of the routine is to rehydrate the skin, for which this brand offers hydration lotions. Finally, take extra care of the dry and acne areas with the All Over Ointments.
The thing we love about this brand's products is that they're organic.
The main natural ingredients in their body wash, hand sanitizer, hair conditioner, etc, are plant-based extracts from flowers, seeds, leaves, and butter.
Despite being natural, you don't have to worry about sticky, stiff textures or unpleasant smells.
They can keep your little ones' bodies clean and moist without irritating acne or using chemical substances.
Plus, the ingredients used in those products are animal cruelty-free and sourced cleanly. With baby acne Tubby Todd, you can gain gentle baby skin care with a piece of mind.
Does Tubby Todd Help With Baby Acne?
When it comes to treating acne, people often opt for the All Over Ointment. This balm has worked wonders for baby acne.
Everything about this balm is safe for your little one. Let's start with the ingredients.
This creamy ointment is a natural product consisting of beeswax, mango extract, honeysuckle extract, and avocado extract.
Additionally, the jar containing the ointment does not have the BPA compound.
Baby acne will be exacerbated by dry air; therefore, keeping your baby's skin moisturized is recommended. All Over Ointment proves to be the ideal product to get this done.
It has a thick but not greasy texture. When applying the balm to the skin, it soaks in well and instantly hydrates that area. The product's texture makes the ideal barrier to hold that moisture.
Since acne makes your infant's skin much more fragile, artificial fragrances can irritate his sensitive skin, worsening the condition.
Sometimes, if the scent is too strong or intense, the baby won't cooperate and throw a fit if you put it on them. Luckily, this will not happen with Tubby Todd baby acne, as it is fragrance-free.
As mentioned above, following a routine for acne skin will bring out the best results.
Combining the Tubby Todd All Over Ointment baby acne with the Hair+Body wash lotion will build a strong defense against infection for your baby.
The Hair+Body wash will clean and refresh your baby, preparing his skin for the balm.
Unlike other baby products, this product can do a great job while hydrating the skin instead of stripping moisture off it.
There are three choices of fragrances for this Hair+Body wash: fragrance-free, Lavender+Rosemary, and Fresh Raspberry.
Pick the one with no fragrance if your little one doesn't like too much scent.
However, it is completely okay to go for the scented ones, as the fragrances are natural and made from raw materials.
FAQs
What Is Tubby Todd Good For? 
Tubby Todd products are good for taking care of the skin, especially the sensitive ones. The brand offers a wide variety of products for newborns, toddlers, kids, and mothers.
These products easily blend into your everyday life and help you in different circumstances.
For hydrating skin, you can try their Dream Cream and Every Day Lotion. If you want to take care of your baby's hair, there are Hair Detangler, Body+Hair Wash, and Hair Conditioner.
Does your baby want to play out under the sun? No worry, the Mineral Sunstick and Mineral Sunscreen will protect his skin from the heat.
Mamas can also get the Belly Oil and Nipple Balm to be more confident being themselves.
Can You Use Tubby Todd On Newborns?
Absolutely yes. As mentioned above, Tubby Todd has manufactured many products dedicated to newborn skin.
They say no to harmful chemical substances, so you can confidently use them on the infant.
Is Tubby Todd Good For Diaper Rash?
If your baby has a diaper rash, check out the Sweet Cheeks Diaper Paste from this brand. This paste is said to be able to soothe your little one's bum and keep irritation at bay.
Like many other Tubby Todd products, this paste is completely gentle to your baby. It has no fragrance, consisting of 14% zinc and sunflower, coconut, and jojoba oils.
No matter how many times your baby needs to change his diaper, his cheeks will stay soft and smooth with the help of Sweet Cheeks Diaper Paste. 
Follow these tips to deal with diaper rash easily yet effectively. First and foremost, learning how to put on a diaper correctly is very important. Choosing the diapers to prevent blow out also helps reduce the rash.
Additionally, clean the rash area with warm water after every diaper change.
Let the skin rest and dry. Finally, apply Sweet Cheeks Diaper Paste on his bum and wait for it to work wonders.
Does Tubby Todd Help With Itching?
Mothers have shared that All Over Ointment does relieve itchy skin on babies. Tubby Todd for baby eczema is also good to go, as the balm does a good job of soothing dry skin.
How Long Does Tubby Todd Take To Work?
You will see a drastic change in your little one's body in just several days.
For example, tons of positive feedback have shown that with eczema, all it takes is just three applications for the All Over Ointment to smooth out the newborn skin.
Conclusion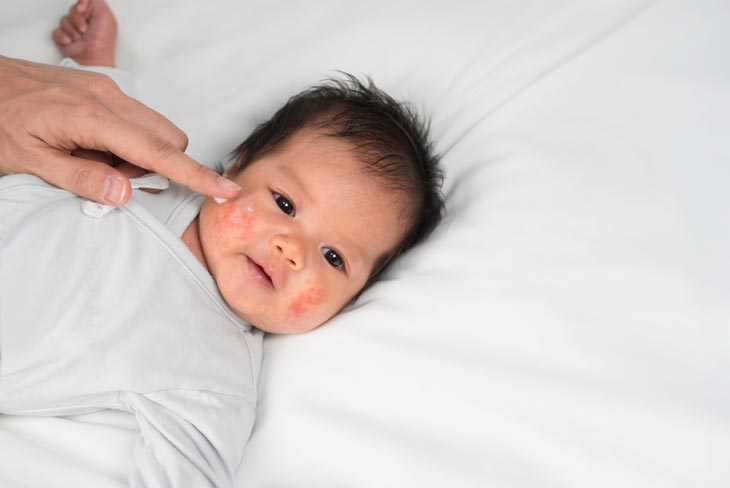 Tubby Todd baby acne is the all-in-one brand that parents can rely on to care for their babies' skin.
They cover it all for you, from bathing and protecting skin from the sun to hydrating skin.
Hopefully, you find our article useful. Thank you for reading!