Taking care of children is never easy. Parents have to worry about food, bathing, and sleeping. Especially the diaper change.
Many parents are always nervous when faced with this task. Some people can't even do this.
How to put on a diaper correctly? What are the necessary steps? What materials need to be prepared?
Do these questions confuse you? Luckily, we are here to help you figure it out. Please scroll down for more in-depth knowledge.
How To Put On A Diaper Correctly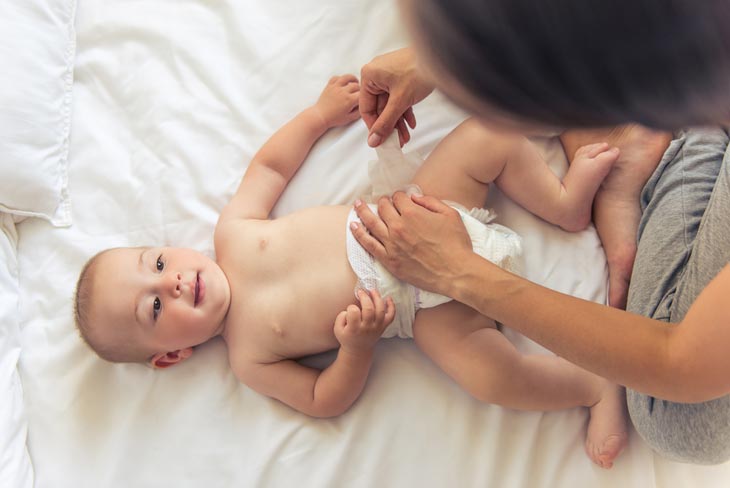 What You Should Prepare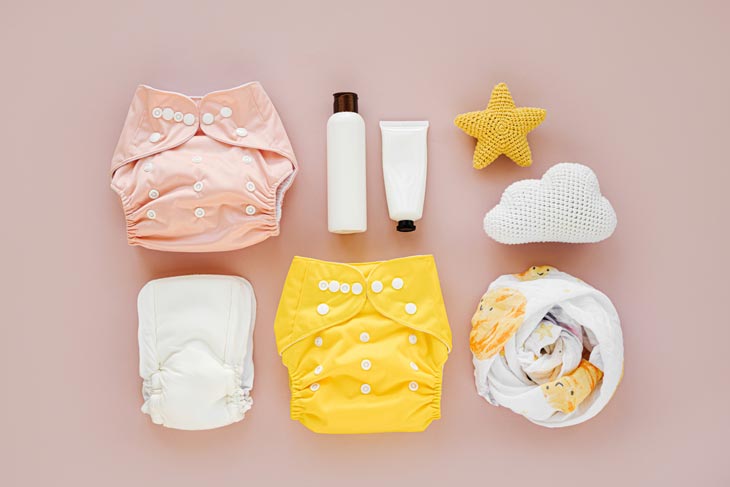 How to put a diaper on? Before thinking about that question, you must carefully prepare the necessary items for the upcoming task.
Before you get things done remember to prepare these diapering essentials. It is better to take some spares whenever changing diapers.
New diapers: This is a must-have item. Of course, it must have a suitable size to avoid overflowing unnecessary objects.
Changeable clothes: Avoid the case stains on clothes during the change process. A blowout can completely happen unexpectedly.
Garbage can: An essential tool for throwing away dirty or used tissues. Alternatively, you can use disposable bags.
Sturdy table or carpet: For the work to be carried out smoothly and safely, you need a very large and stable area.
Creams and ointments: Remember that you should restrict the amount of ointments and rash creams when using cloth diapers.  You will need one of these in case your baby gets a diaper rash.
In addition, you absolutely should not leave the child lying alone. This situation can lead to some unexpected problems. Once you are fully prepared, you can start working.
Step By Step To Put On A Diaper Correctly
Once we have prepared everything we need, let's get to work. However, how to correctly put on a diaper? Diaper changing might seem complicated at first.
Please read this section carefully to understand more and do well to take good care of your child.
Here's our step-by-step guide on how to change a diaper properly.
Getting Started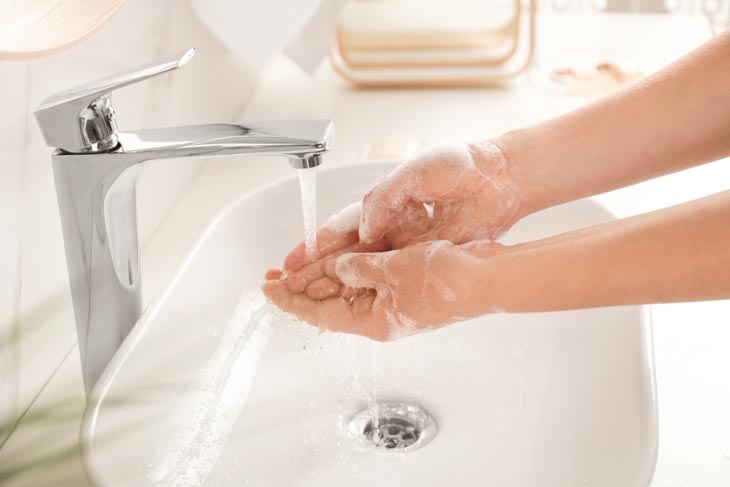 Before changing your child's diaper:
Make sure your hands are clean. Disposable gloves might help to not leave your hands messy.
Pick your baby up on the table and let him/her lie down comfortably.
Put all the prepared items on the table, They should be out of reach of children.
Minimize the turning back to take care of the baby more carefully.
Taking Off The Diaper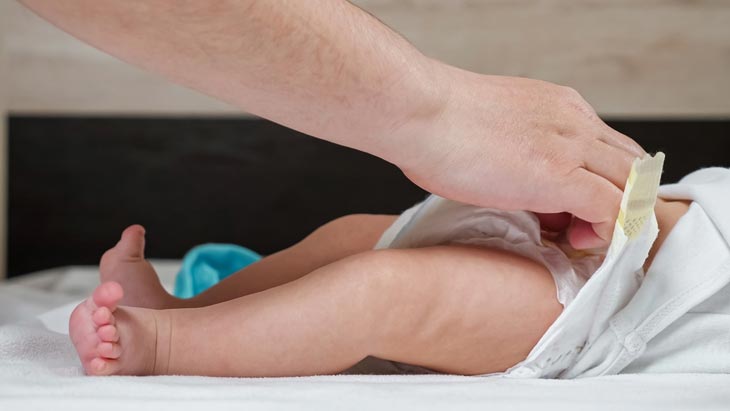 Place your child on his/her back comfortably. Then start taking off the sides to open the dirty ones.
Unfasten the tabs on every side.
Slowly lift your baby's bottom by gently grasping the ankle and pulling up. Then you can take it out very easily.
If the inner part of the dirt is covered with feces, don't panic. Just take the upper part to sweep away the dirt.
Slowly pull it away from your baby. Please keep it out from children.
Refresh Baby's Skin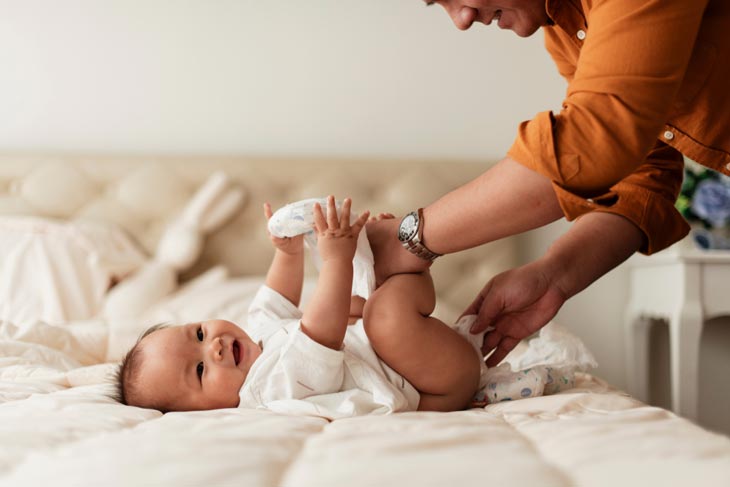 At this step, use a clean towel and start wiping your baby's lower body.
For girls, parents should carefully wipe the vulva to avoid infection.
As for boys, the penis also needs the same care. It would be best if you used a damp towel or cotton ball.
Drag your trash can close and put all used items to the side of the trash can.
Putting On The New One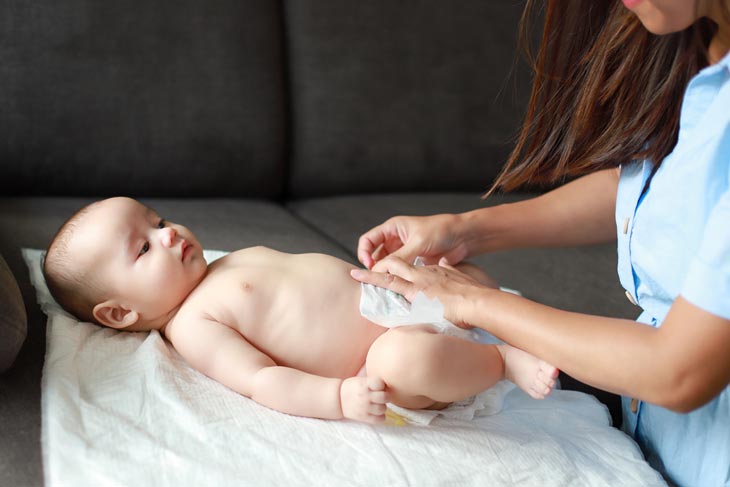 After cleaning your child's body, pick him/her up and slowly put an open product in. You must ensure that you place the right front side and that it is centered on your baby's body.
When you are closing the sides, you can use a reliable ointment to prevent rashes and protect your baby from other skin diseases.
Limit baby powder use because scientists have warned about gaseous components that can be inhaled by babies, leading to negative effects.
Finally, close it. Pull the part between your baby's legs above the belly forward. And then, you pull the surrounding sections forward to make sure the nappy fits your baby's body.
Cleaning Everything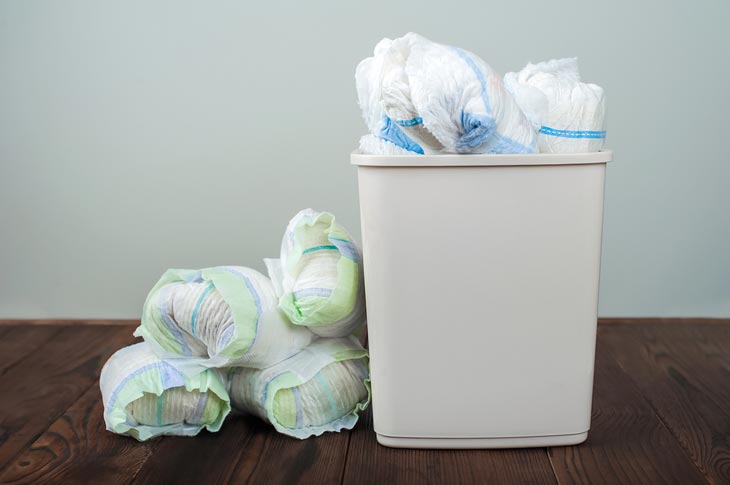 When you're done, lay your child there for a little while.
Roll up dirty ones and used items together. Then put them in the trash you have prepared.
Pick up your baby and put him/her on the ground so he can move freely, and you can get to work on the cleanup.
Thoroughly clean the table (or carpet) you have used. You can use regular cleaning agents to disinfect it.
Finally, you wash your hands (hand sanitizer can be used if soap isn't available).
Some Special Tips For Baby
Different children will have different ways of taking care of themselves. This section will focus on gender to provide more specific care about the right way to put on a diaper.
Parents should gently clean both the front and back of the lower part for girls. This process will help avoid getting feces in the vaginal zone, creating discomfort in girls.
For boys, it's a bit more complicated. Parents should wrap a thin layer of cloth around the child's penis.
Then gently clean all over the bottom. When wearing, you should pay attention to the baby's penis down, thereby helping to avoid its spills.
One thing you have to notice is that baby boys might surprise you by a urine fountain halfway through your cleaning process.
With newborns, the changing diapers process remains the same, regardless of using disposable diapers or a cloth.
If you change the diapers of older babies, it is much easier to take on a new diaper when the baby is standing.
How To Prevent Diaper Blowouts Up The Back
A question families have asked a lot in recent times is, "How to prevent diaper blowouts up the back?". We'd be happy to answer you with a detailed step-by-step process below.
Consider Choosing The Most Proper Brand
Many well-known baby companies in the market promise that blowouts are unlikely when using their products.
However, this still happens often. It seems that stains usually appear on the back of the product.
The most suitable product should be around the baby's waist and legs, relying on various brands. Therefore, you should consider using many different diapers and choose the most suitable one to prevent blowouts.
Once a decision has been made, we guarantee that the above problem will be greatly reduced.
Usually Using One Larger-Size Diaper
If the product is too small, it can't completely absorb the whole dirty thing. Thus, the blowout will happen from behind. Make sure to choose the correct diaper size.
Parents should pay more attention to the weight and fit of the product. When you see a tight, that's when you should increase the size of the product to a larger one.
Hold The Diaper Bag Tightly In Your Hand
Blowouts can happen no matter how hard you try to cover everything up. It will cause both your and baby's clothes to get dirty.
Especially when you have a road trip with the baby, this can destroy feelings of comfort.
Rest assured because you can completely handle everything, even if at home. Always keep your diaper bag tight. You should prepare a lot of clothes and diapers.
You should also have wipes and different wet and dry bags to pre-empt any situation. Messy and smelly stains are easily dealt with.
Conclusion
After reading this blog, we hope you understand how to put on a diaper correctly. Taking care of children is always difficult, especially for first-time parents.
However, the more you do it, the easier it will be, and it won't be a concern anymore.
Always love and take good care of your children. Even in the process of working, maybe children will be annoyed because of discomfort.
Don't worry because you won't hear more crying once you've mastered it.