On these hectic days, we might not have enough time to keep our living space spot-free. Don't worry.
This dedicated post is helpful for you to know how to keep your home clean and organized in the easiest and quickest way.
It provides you with 10 powerful tips to build cleaning habits and establish a sense of comfort.
"Clean space, clear mind" revitalize yourself and prepare for new challenges outside. Let's discover 10 ways to keep your house clean! 
How To Keep Your Home Clean and Organized – 10 Handy Tips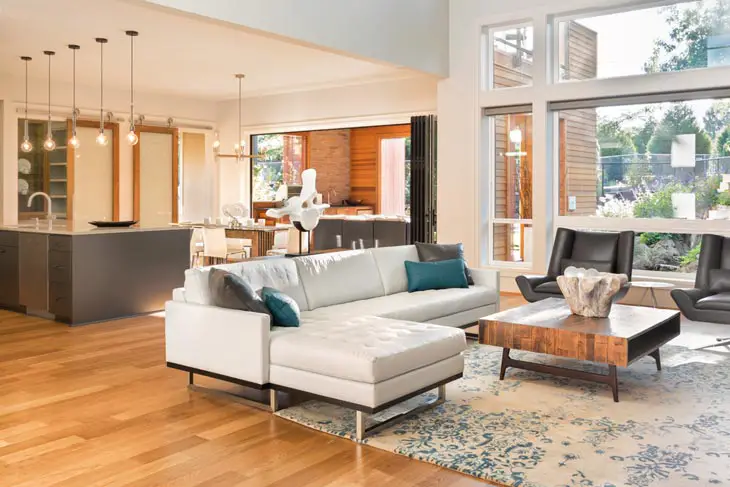 What is a good house cleaning routine? Here are 10 things to keep in mind.
#1. Put Things Away Once They Are Not In Use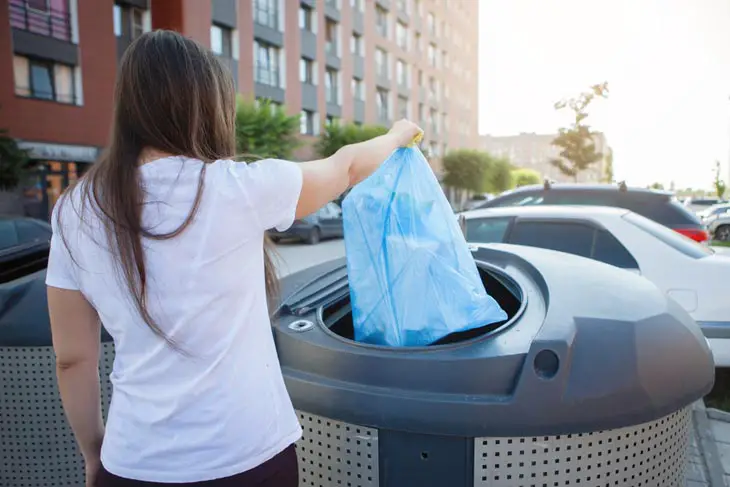 As a regular norm, we tend to put shoes on the floor and drop the coat on the console table.
We are getting used to leaving everything nearby where we stand or sit rather than putting them where they belong.
Let's imagine how messy and disorganized your house is once everything is piling up.
Actually, spreading out all over places consumes the same time and energy as putting things away.
Tucking things away in their right place is the fundamental way of keeping your home spotless and neat.
Indeed, this simple habit is to use up your precious time and energy to make it tidy.
Additionally, try to build a habit of observing the room for 2-3 minutes before you move from one room to another.
Let's do a quick scan to see if you can take something with you and then put them where they should be.
#2. Clean As You Go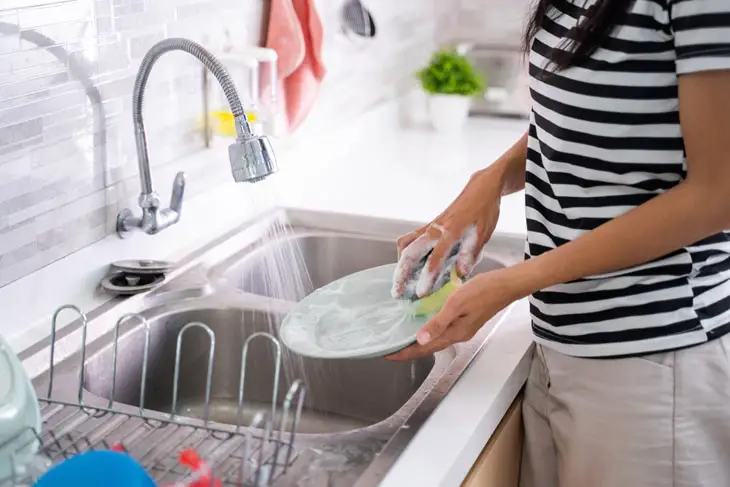 Clean as you go is a fairly self-explanatory principle. It is an ongoing process where you clean up the mess as soon as you finish making it.
More specifically, it entails cleaning countertops and washing dishes right after the finished meal or making the bed sheets after the wake-up.
This mere practice also involves wiping the tiny mess away. Instead of waiting until the house gets dirty, let's clean a bit at a time.
Otherwise, it becomes stressful to do a lot of cleaning in your spare time.
Undoubtedly, the outstanding advantage of cleaning as you go is to keep your house in order and your workload manageable.
#3. Decluttering / Constantly Get Rid Of Things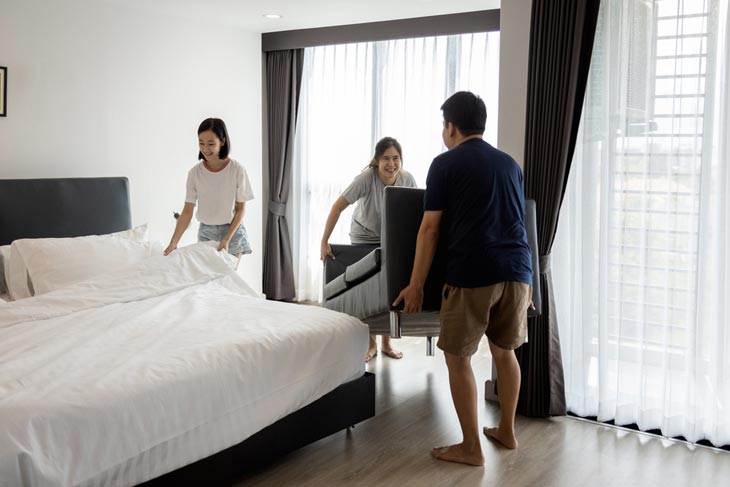 There is a fact that we usually buy more than we need. By that time, your home is overwhelming with the sheer amount of stuff you have.
The approach of decluttering or constantly getting rid of things to organize your house is sorting through items you have accumulated over time.
Recycling old stuff or donating them and throwing out unnecessary items is a wise way to declutter the house.
Finally, put the usable things neatly in their rightful places or storage boxes.
#4. Follow The One-Minute Rule
What is the secret of keeping the house clean always? Among the top 10 handy tips, if being asked this query, the one-minute rule is the right answer.
Make a habit of doing any chore immediately instead of putting them aside if it takes just one minute. By that time, you will see a huge difference in your house.
The messy house, which made you feel claustrophobic, is getting more orderly, less cluttered, and cleaner with the power of the one-minute rule. 
#5. Do One Room At A Time
Clean, clutter-free space is what everyone desires most. However, many things make us busy in life.
Being happy with tackling one room at a time is what you can make better use of your most valuable time.
Make a list of things to keep your house clean. Prioritize what is essential to be done now. You can leave unnecessary things such as cleaning carpet or wood stove glass in the next day or two.
By splitting up cleaning by room or by day, the house is getting relatively clean. The rest of the work is doable on a deep cleaning day.
#6. Stick With A Daily Cleaning Routine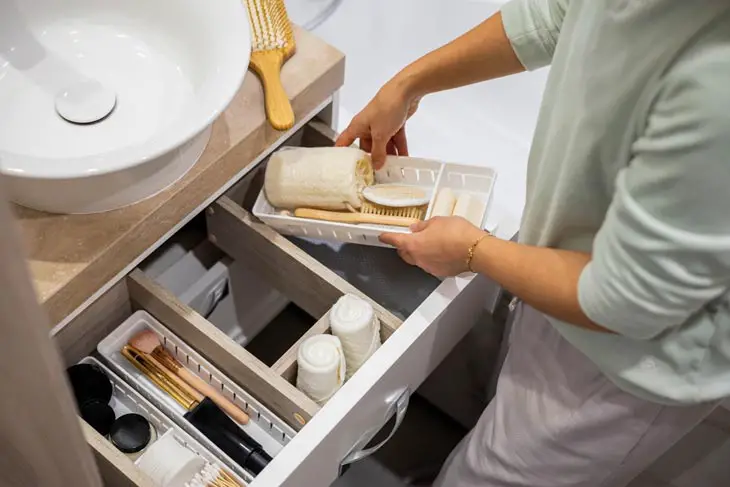 How do I keep my house clean and organized in 30 days? If you are still struggling to find the answer, here are the daily routine you can stick with: 
Make The Bed: Starting your day by making the bed neatly. This task is a powerful way to push the mood and leave you with a sense of accomplishment.
Clean Up Every Time You Cook: This principle follows the rule of "clean as you go".
It is vital to pay attention to clutter and throw out trash, wipe out the kitchen counter, and don't leave any dishes and cooking utensils in the sink after a meal.
Wipe Up Messes As They Happen: Get any spills off as soon as you can so that you will not face clogged stains by the end of the week.
Sort and Recycle Paper: Categorizing paper works, bills, and mail and then storing them at the appropriate places make it easy to find and organize.
#7. Use Timers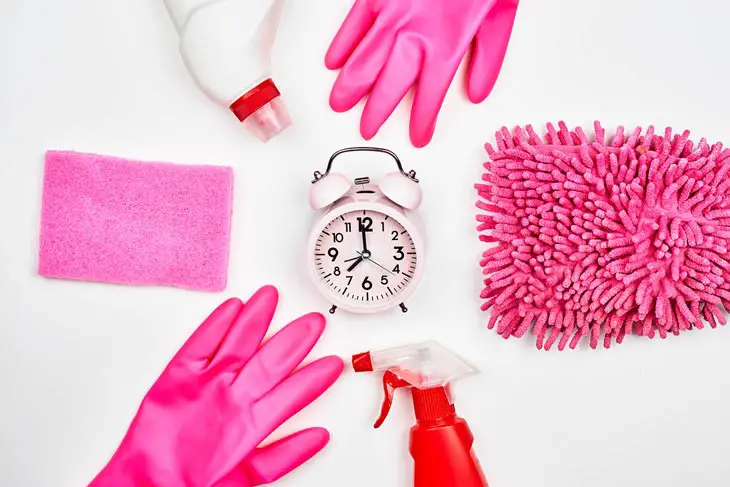 Setting a timer is the answer for anyone looking up how to clean a filthy house quickly. It keeps you focused and motivated as well as pushes you to clean faster.
The basic principle of this method is challenging yourself to declutter a room in less time. As a result, you will get more done when you work less.
Literally, you can finish a two-hour of house cleaning in half an hour by this hyperfast way.
#8. Do A 15-Minute Nightly Clean-up
Imagine how frustrated you feel after waking up and seeing a pile of dirty dishes or clothes. Speedy house cleaning in the morning even makes your new day busier.
Instead, let the family get involved in a 15-minute nightly clean-up. The children can tidy up playing areas while you finish making other places organized.
Nighttime is also when you could apply the tips "use timers" and "do one room at a time" to remove the biggest mess which can't wait until the next day.
#8. Get Family Involved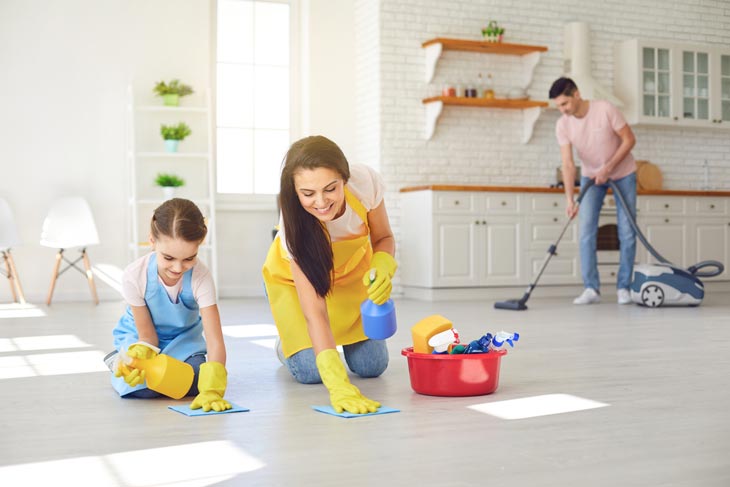 Getting everyone involved in housework saves much time while it makes them responsible for keeping home in order.
More importantly, it is crucial to teach children to do age-appropriate jobs and make necessary habits like putting things away, cleaning as you go, or decluttering.
#10. Keep It Fun
Decluttering becomes motivated if you find a way to make it more enjoyable. Interestingly, you can listen to your favorite songs or podcasts while washing dishes.
Finally, allow you to watch a favorite show or film on Netflix once you finish household tasks.
Wrapping Up
We hope you find the post on how to keep your home clean & organized informative and helpful.
An airy, clean house makes every family member relax and inspire enough for other work.
Let's start making a good habit of setting up your home and putting these 10 ways to keep your house clean into practice. You will see a huge difference! 
How can we keep our homes clean for class 1 and class 2? If you need more motivation, let's sign-up for more information.
Thank you for reading!