When the weather turns cold, it's time to think about warm blankets to help keep family members healthy. In particular, Sherpa blankets are loved and trusted by many people.
That said, many people may puzzle about what is a Sherpa Blanket? Or what does a Sherpa blanket look like? And when using, preserving, and cleaning these blankets, what should be paid attention to?
To better understand those things, you should refer to some of the information in our article below. Take no more time! Scroll down to learn more information you may not know and some surprising facts!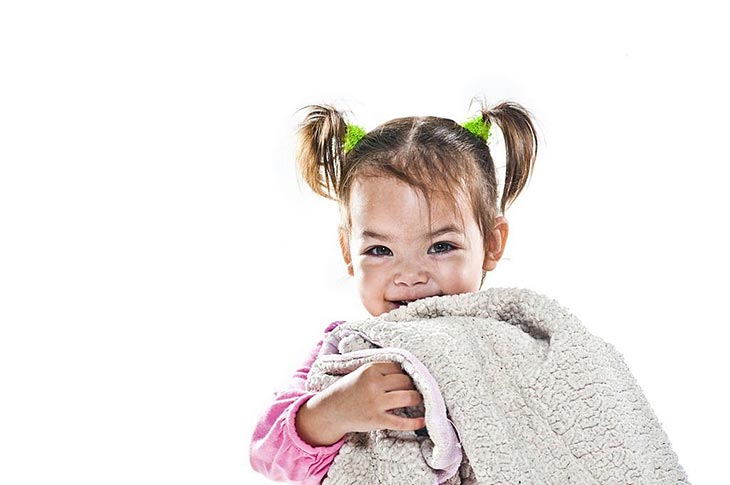 What Is a Sherpa Blanket?
What's a Sherpa blanket? It is a blanket made of Sherpa material. Sherpa fabric is a 100 percent synthetic material that mimics the appearance and feel of sheep wool.
Faux sheepskin is also a common name for it. The blanket has two sides and is made of polyester or acrylic fibers. One side is a textured fleece, while the other is a smooth knit.
Sherpa was developed in the 1980s by Malden Mills, which is now Polartec. Sherpa blankets get their name and inspiration from the Himalayan Sherpa people.
Traditional Sherpa apparel has a similar shape to these blankets, which helps them stay warm in cold weather.
A Sherpa blanket is lighter than wool yet thicker than other fleece blankets. As an outcome, these things are easy to top for warmth, comfort, and convenience.
In reality, this item is the most popular style of a fleece blanket and is well-liked by customers.
What Are the Benefits of Sherpa Blankets?
Animal Friendly
What is a Sherpa blanket made of? This product may contain cotton, but it has no animal products. In the process of creating a Sherpa blanket, no animals are purposefully injured. It does not include any wool or fur, and animal skin is not present.
As an outcome, a Sherpa blanket is less likely to trigger an allergic reaction in people allergic to animal goods such as the wool blanket. Sherpa is the ideal way to pick if you want a warm baby blanket without being harsh to animals.
Excellent Insulation
Sherpa's exceptional capacity to retain and preserve heat is one of its most notable qualities. This fabric creates powerful insulation because it has two sides, a smooth surface, and a hairy lining. It also protects against the elements such as wind and cold.
But wait, there is more. It's like falling into super-duper and fluffy clouds when you use a blanket with a sherpa liner.
A sherpa-lined baby blanket is the perfect infant must-have in the winter because of its incredible heat insulation.
Warmth
Are Sherpa blankets warm? Obviously, yes. Sherpa is widely regarded as the warmest of all fleece textiles. These blankets are of the highest quality and will keep you warm in the winter.
No matter what the weather is like outside, the snuggly throws warm you up and make you comfortable when you're in the blanket.
Additionally, the fibers make the body warm immediately when applied, even when it becomes cold.
Easy Maintenance
Sherpa blankets are simple to clean and care for. The cloth not only dries rapidly, but it also washes easily! The blanket requires no extra care and is machine washable.
You can shake the blanket frequently and dry it in the sun to avoid hazardous odors or mold from leftover moisture on the blanket.
It is easy to maintain by storing blankets in a moisture-wicking bag rather than a plastic bag. Keep the blanket somewhere cool and dry. This problem prevents the gas from becoming corroded after being stored for a long time.
Comfortable and Lightweight
The blanket's minimal weight is due to its fabrication. The artificial fibers it contains are as light as a feather since it is 100 percent synthetic.
Because Sherpa blankets are synthetic fabric, they are less able to ingest water and do not acquire weight in rainy situations.
Interestingly, a baby blanket with sherpa inside will not feel like a weighted blanket. Instead, since the sherpa is so light, you can easily pack it in your car or a jogging stroller and regular stroller to keep your kid warm and comfortable.
Breathability
Another feature of sherpa blankets is regulating the user's body temperature. In addition to being able to warm the body when it gets cold, in the summer, the temperature rises, this coat helps your skin sweat and regulate body temperature in a good way.
Thanks to this unique function, these blankets will be able to eliminate the most moisture. That can assist you in preventing feeling suffocated or smothered.
Furthermore, eliminating the environment that produces germs is harmful to the user's health. Ordinary blankets are incapable of accomplishing this.
How Can Sherpa Blankets Get Damaged?
When you wash your Sherpa blanket in a standard laundry cycle, you may encounter several issues. The dense threads of the blanket will clump and fall off.
Or when washing, your blanket brushes up against the other clothes in the washing machine. Owing to the frequent contact, the individual fibers become tangled and matted.
Furthermore, throughout the cleaning procedure, cosmetic harm can occur. Examine your garment labels and your Sherpa blanket for any discrepancies. Symbols indicating the recommended wash setting can be seen.
Sherpa fabric can also be damaged by extreme heat, harsh chemicals, and prolonged friction. This material should never be dried in a regular dryer. Under these temperatures, it could scorch, melt, or become irreparably tangled.
How To Care For A Sherpa Blanket?
Pretreat Stains First
When your preferred sherpa pullover or coat gets a stain, massage a mild detergent into the spot and hand wash it in lukewarm water.
Do you have a more durable stain, like paint? As a final option, you might use unscented mineral spirits.
Stay away from using bleaches and chemicals. Chlorine-based bleaches can harm fabrics over time.
Or if the discoloration is oil-based, add some cornstarch to absorb part of the oil and even smells. The powder will absorb a little of the oil, making it much easier to remove afterward.
Wash the area thoroughly after 10 to 15 minutes of blotting away the soap with a paper towel. Do not scrub your skin with soap. That will make the stain more noticeable.
Using the Washing Machine
You might appreciate machine-washing a sherpa throw when you don't have enough space or time! Remember that Sherpa bleeds and mats up when washed with other fabrics. 
If you must wash your Sherpa blanket, we strongly advise using cold water. This is because it reduces the chances of fading. It also doesn't put too much strain on the synthetic materials used.
Machines are acceptable as long as the blanket is washed separately from the rest of the laundry. It would be best if you avoided any extra towels or garments. The blanket necessitates a lot of space to move around freely.
Drying
The most efficient approach to protecting your Sherpa Blanket from getting damaged is hanging it on a clothesline.
If you have a clothesline, hang your sherpa blanket to dry in the fresh air. Instead of using hardwood clothespins, which may snag the fleece, use plastic clothespins.
In case you can't put your hand on a clothesline, drape your damp blanket over a laundry rack or use a row of folding chairs.
Or you can dry the blanket safely if you're in a hurry or don't have much time. Note that you should only use the tumble-dry setting. There will be no heat applied with this setting because high heat will damage your blanket.
Frequently Asked Questions
What Are The Best Sherpa Blankets?
Choosing the best Sherpa blanket might be difficult with so many possibilities. We've compiled a list of suggestions to assist you in making your decision. Here are our top two picks for the coziest blankets:
Bedsure Sherpa Fleece Blanket: This is a fantastic blanket throw for chilly nights. This cozy blanket is composed entirely of microfibre, which can resist fading and wrinkles. It's also a great option for camping and resting on your veranda on a cold evening.
Sherpa Wearable Blanket: This warm blanket is also an accessible solution and a perfect gift for those frigid cold winter nights. Because of its soft materials, you may carry it by curling up into it. Furthermore, this super-soft blanket comes in a variety of colors.
If you want to purchase cheap sherpa blankets of high quality, you can buy online to get a good deal and compare the quality with other brands.
How Do I Make My Sherpa Blanket Fluffy Again?
If your sherpa blanket appears to have seen better days, try the vinegar-combine gentle wash approach to soften it up again.
A brush can also remove the buildup of fibers in a Sherpa blanket and restore its suppleness. This procedure works well with matted Sherpa blankets that have destroyed their fluffy quality.
It would help if you brushed your blanket gently to prevent it from shedding. You can apply this way to clean a fursuit.
What Is The Difference Between Sherpa and Fleece Blankets?
The key distinction between the fleece and sherpa fabric is that sherpa is supposed to resemble sheepskin, is lightweight, and is typically used as a cover layer or coat lining to provide our body extra warmth.
In contrast, fleece fabrics can be worn alone as a jacket or blanket based on its heaviness and thickness.
Recap 
After reading our article, you've known: what is a Sherpa blanket?
We truly hope you understand that while fluffy, soft sherpa blankets may appear difficult to maintain. But following a few simple procedures will keep them plush and comfy for a long time!
You can preserve the fleecy side of your blanket by using cold water, light detergent, and air drying.