The journey of childbirth is a unique and transformative experience, often accompanied by a range of physical and emotional changes.
Among these changes, some women may experience vomiting before labor, raising questions about its normalcy.
In this article, let's see whether this stage of labor is normal, what factors might contribute to it, and when it might warrant medical attention.
Is Vomiting Before Labor Normal?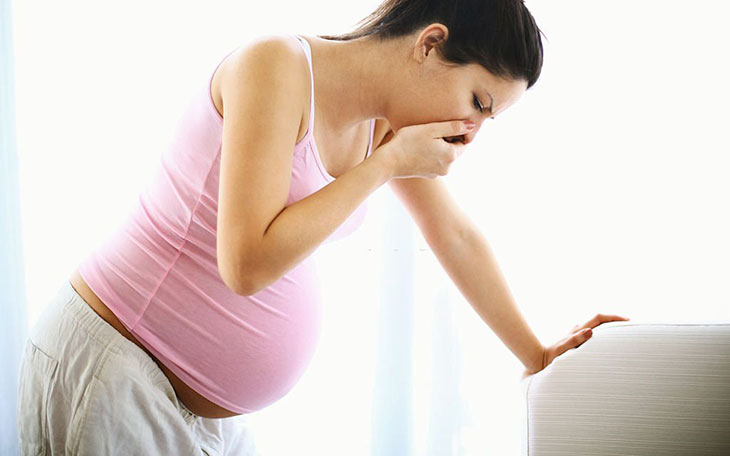 Throwing up before labor can be normal and common pregnancy symptoms, but it's not guaranteed to happen to every woman. It might indicate your labor is coming.
Just like morning sickness can occur in the early stages of labor due to hormonal changes, some individuals might experience nausea and vomiting before labor as a reliable sign when active labor approaches. 
This phenomenon is often attributed to the body's response to the intense hormonal shifts and physical changes in preparation for childbirth.
However, if vomiting is severe, persistent, or accompanied by other health conditions such as severe abdominal pain, fever, headache, or vision changes, it could signal a medical issue requiring medical assistance.
I recommend you contact a healthcare provider in this case.
They can offer tailored advice based on a person's symptoms and medical history, guaranteeing the safety and welfare of the expectant mother and the unborn child.
Why Do Women Vomit Before Labor?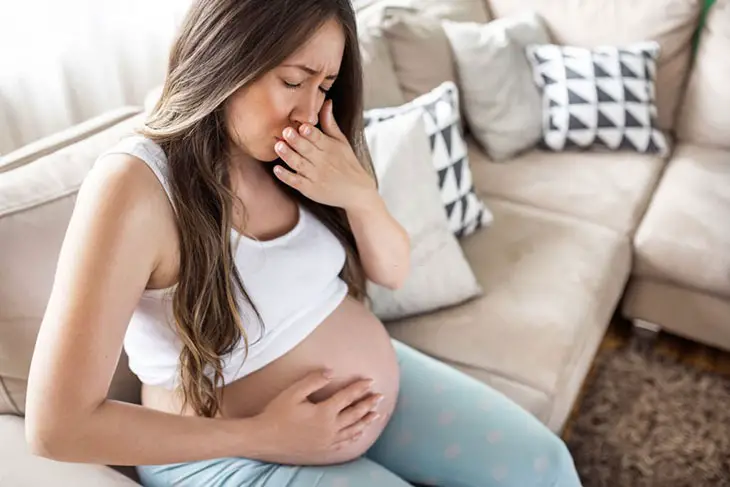 Here are some key reasons why women may nausea prior to labor:
Hormonal Fluctuations (Hormone-Induced Contractions)
During pregnancy, hormones are pivotal in orchestrating the physiological changes required to support fetal growth and prepare for childbirth.
Prostaglandins, for instance, are responsible for uterine contractions and contribute to inflammation and abdominal muscle contractions in the stomach and intestines.
This can lead to puking before labor as the body reacts to the hormonal changes.
Moreover, oxytocin, often referred to as the "love hormone" for its role in social bonding and childbirth, can also affect the gastrointestinal tract.
Increased Pressure
As pregnancy advances, the developing fetus places increasing pressure on internal organs, especially when it moves down into the pelvis in preparation for childbirth.
This feeling of pressure has a pronounced effect on the stomach, causing sensations of fullness, bloating, and discomfort due to the expanding uterus and the baby's positioning.
As a result, it stimulates the body's natural reflex to empty the stomach's contents, potentially resulting in nausea right before labor.
Gastrointestinal Changes
Hormonal shifts, particularly the increase in hormones like progesterone, can slow down digestion.
Such a delay allows more time for the absorption of nutrients by the developing fetus, but it can create gastrointestinal discomforts, including bloating, gas, and pre labor nausea.
Stress and Anxiety
Stress and anxiety are common emotions during this time, and they can trigger physiological responses in the body.
The "fight or flight" reaction, characterized by releasing hormones like cortisol and adrenaline, is triggered when the body experiences stress or anxiety.
These stress hormones can influence various bodily functions, including digestion.
In some cases, the body's stress response can evoke a sensation of "butterflies" in the stomach, nausea, or even vomiting.
Moreover, the anticipation of childbirth and the unknown can understandably cause feelings of unease.
Anxiety about labor pains, uterus contracts, loss of appetite, the birthing process, or the health of both the mother and the baby can contribute to common signs like nausea.
Early Signs Of Labor
For some women, vomiting can serve as an early indicator that labor is on the horizon.
The processes within the body are interconnected, and as active labor approaches, various physiological changes occur in preparation for childbirth.
These changes can manifest differently, with vomiting being one possible response.
It's important to note that not all women will experience vomiting as an early phase of labor, and it's just one of many potential indicators.
Other early signs of labor might include the onset of regular contractions, the mucus plug release, or the amniotic sac rupture.
Dehydration and Hunger
Dehydration can break the balance of electrolytes and blood pressure, which might trigger sensations of nausea or even vomiting.
Similarly, low blood sugar levels due to inadequate food intake can cause feelings of nausea and contribute to the urge to vomit.
In the context of labor preparation, the body requires sufficient energy and hydration to sustain the physical demands of childbirth.
Ensuring that an expectant mother stays hydrated and maintains a balanced diet can help minimize the likelihood of dehydration-induced nausea during labor.
Hyperemesis Gravidarum
Hyperemesis gravidarum is believed to result from a combination of factors, including hormonal changes and possibly genetic predisposition.
The exact cause is not fully comprehended, but it's thought that elevated levels of certain hormones, such as human chorionic gonadotropin (hCG), play a role.
Unlike the common morning sickness, hyperemesis gravidarum is a real medical condition requiring treatment, hydration therapy, and nutritional support.
In some cases, attention and intervention from the care team with medication to alleviate the severe symptoms is needed.
FAQs
When Should I Be Concerned About Vomiting Before Labor?
You should worry about nausea before labor if it becomes worse, persistent, or is accompanied by:
Dehydration and inability to keep fluids down
Blood in vomit
Severe abdominal pain or cramping
Headache, vision changes, or swelling
Reduced fetal movement
Fever
Signs of hyperemesis gravidarum (weight loss, extreme dehydration)
Contractions, fluid leakage, or preterm labor signs (before 37th weeks)
If you experience these symptoms, you must immediately contact your healthcare provider for evaluation and guidance.
How Can I Manage Vomiting Before Labor:
To control vomiting before labor:
Stay hydrated with small sips of water
Eat small, bland meals frequently
Avoid triggers like strong smells and acidic juice
Rest and practice relaxation techniques
Stay upright after eating
Consult your doctor if it is severe or persistent
Explore prenatal vitamin adjustments
Manage stress through relaxation and breathing methods.
Stay informed about labor to reduce anxiety
Conclusion
As the body prepares for the monumental event of childbirth, it's not uncommon to exhibit various signs of change, including vomiting in some cases.
While vomiting before labor can be unsettling, it's often a normal response to the intricate hormonal and physical shifts within the body.
Every pregnancy journey is unique, and what's most important is ensuring the well-being of both the mother and the baby throughout the labor process.