When creating a cozy spot and inviting space for your child, the right furniture can make all the difference.
The Pottery Barn Kids Anywhere Chair is a popular choice for parents looking to add comfortable and stylish seating to their child's room, playroom, or even outdoors.
But with several sizes available, deciding which one is the best fit for your space can be tough.
In the blog post of Anywhere chair size comparison, we'll investigate different Anywhere chair sizes and help you decide which item availability is right for you and your baby.
About Anywhere Chair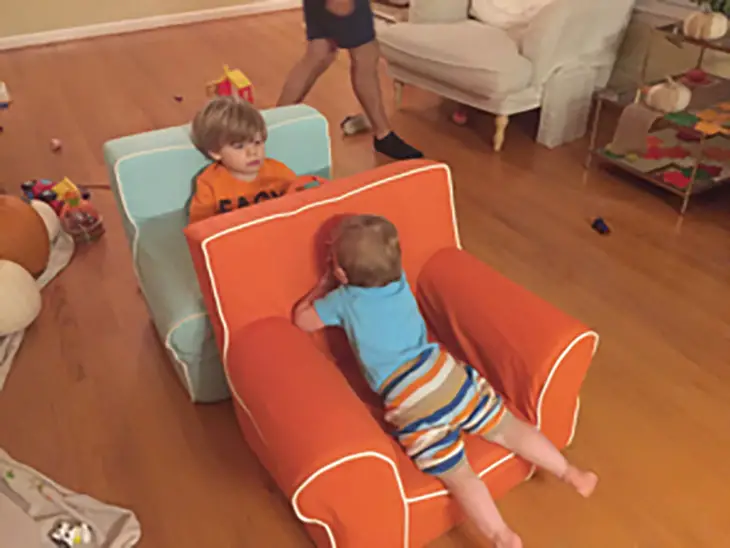 The adorable small armchairs from Pottery Barn Kids are optimal buying choices for youngsters to curl up with snacks and blankets.
These chair types are excellent for strolling, reading, family movie night, road trips with babies, and virtually any other activity.
Furthermore, children can easily drag the seats wherever because they are all very lightweight and have a little handle at the top.
There are three pottery barn anywhere chair sizes with a wide variety of colors and patterns available for these lovely little seats.
Also, four foam pads make up the chair, kept in place by a robust, long-lasting removable cover.
Anywhere Chair Size Comparison
In this part of the Pottery Barn anywhere chair size comparison, we will discuss some aspects of the three item availability: My first, Kids, and Oversize Anywhere Chairs for your information!
My first anywhere chair: 20.5 x 16.5 x 17.75 – seat height of 6.5 inches
Kids anywhere chair: 25.25 x 21 x 22.5 – seat height of 8.5 inches
Oversize anywhere chair: 29.5 x 25 x 25.25 – seat height of 9.5 inches
My First Anywhere Chairs
As a comfy, kid-sized chair, My First Pottery Barn's chair is perfect for little ones just learning to sit independently.
The actual size of my first is 20.5 inches wide x 16.5 inches deep x 17.75 inches high and 6.5-inch seat height above floor – making it the ideal size for infants and toddlers up to 2 years old.
The My First Anywhere Chair is available in various colors and patterns, so you can choose the one that best matches your child's room or nursery.
Kids Anywhere Chairs
Next up is the Anywhere Chair's regular size. This comfortable chair measures 25.25″ wide x 21″ deep x 22.5″ high, and the seat is 13″ wide x 15.5″ deep with 8.5″ seat height above floor.
Moreover, with a weight capacity of 6.75 lbs, this regular size is suitable for children up to 6 years old.
The regular chair is also available in various colors and patterns to match your toddler's style.
With total comfort, your kid will feel more encouraged to read a book or just curl up there to watch their favorite movies.
Oversize Anywhere Chairs
If you're looking for a birthday gift that will accompany your child until their tween years, the oversized chair may be the way to go.
It's perfect for lounging and relaxing, and large enough to be shared with friends during playdates. This oversized version is also available in many color schemes and designs.
The pottery barn anywhere chair dimensions measure 29.5″ wide x 25 inches deep x 25.25 inches tall.
Its padded seat reaches 9.5 inches above floor and is about 15 inches wide and 18.5 inches deep and has a weight capacity of 10.75 lbs.
Therefore, this oversized item is a versatile and affordable pick for elementary school kids.
How To Set Up The Anywhere Chair?
Setting up the Pottery Barn Kids Anywhere Chair is a straightforward process that can be done with just a few simple steps and minimal setup time.
Whether you're setting up a comfy, kid-sized chair for your child's room or a cozy corner in your living room, this guide will walk you through the process to ensure a comfortable and secure setup.
Interior Components Parts
For the interior parts of these portable chairs, you will find:
Backrest cushion
Arm cushion
Seat cushion
Removable Slipcover Part
Note that your chair slipcover ships folded.
If you want to remove the wrinkles from the cover material before assembling, place the slipcover in a dryer on medium heat for about 15 minutes with a damp towel first.
It is as easy as washing a Sherpa blanket. Don't worry about the damage because this is a machine-washable product! 
Procedure For An Indoor & Outdoor Chair
Step 1: Start by unzipping the slipcover at the bottom, where the zipper is located.
Step 2: Take the cushion labeled "Backrest" and fit it into the slipcover with the "backrest front" facing forward. Holding the slipcover to the cushion is easier by starting with the sides.
Step 3: Find the fabric flaps at the Back Cushion's base, inside the slipcover, and use the Touch Fasteners on the ends to fasten them over the lot of the Back cushion to hold it in place. Make sure to pull the flaps tightly.
Step 4: Take the "Arm" cushions and stuff them into the arm-shaped slipcovers and get the flaps fastened with the Touch fastener.
Step 5: Do the same with the "Seat top" cushions and ensure that the signal faces up towards the top of the chair.
Step 6: Close the washable slipcover using the zipper, and adjust the cushions to fit well within the slipcover.
Frequently Asked Questions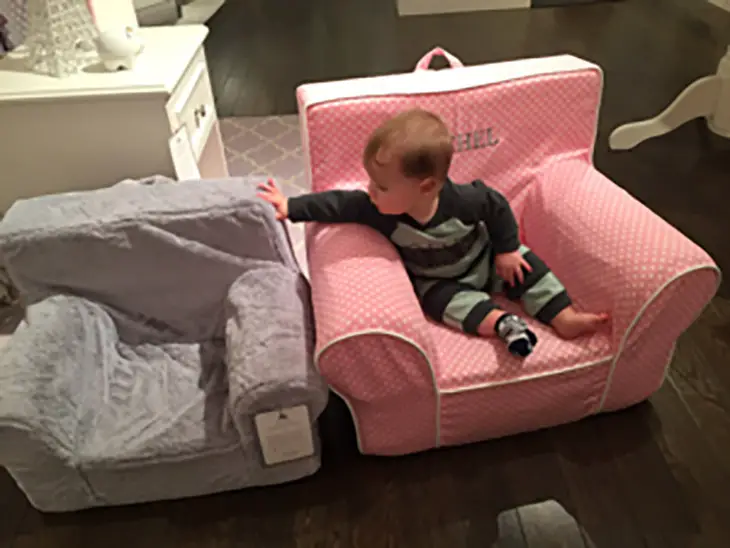 For What Ages Are Oversized Chairs Suitable?
Pottery Barn Oversized Chairs are generally suitable for all ages, including adults. However, they are cozy kid's chairs designed for children and teenagers.
The recommended age range for these chair types is typically between 3 and 16 years old, although some styles may be suitable for younger or older individuals depending on their size and average weight.
It is always better to check a particular chair's specific dimensions and body weight limits before making a purchase to ensure it is appropriate for the intended user.
Adult-sized versions of some of these chairs may also be available, designed to accommodate larger individuals.
What Is The Weight Limit For Pottery Barn Anywhere Chair?
The weight limit for these items varies depending on the size and type of chair.
The standard size Kids Anywhere Chair has a weight limit of 80-100 pounds, while the oversized version can hold up to 150 pounds.
Choosing the right size for your children to ensure their safety and comfort while using it is important.
Conclusion
In conclusion, what is the anywhere chair size comparison? Pottery Barn Kids Anywhere Chair is versatile and comfortable furniture for various ages and sizes.
With careful consideration of the sizes and the space available in your home, you can bring home an attractive option for your needs.